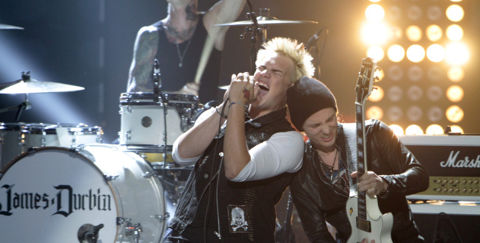 American Idol alumnus James Durbin returned and took the stage on Thursday's episode of American Idol 2012 with a performance of "Higher Than Heaven" off his new album "Memories of a Beautiful Disaster
."
When James spoke with American Idol host Ryan Seacrest he mentioned he'd be launching his spring tour that same night over at The Viper Room there in LA. Now we've got three of his performances to share from later that night. Check out his performances of "Stand Up," "All I Want," "Love In Ruins," and "Higher Than Heaven" below.
2012 James Durbin Tour Dates:
April 12 Los Angeles, CA The Viper Room
April 17 Austin, TX Stubbs w/Evanescence
Apr 18 Corpus Christi, TX Brewster St. Ice House
April 21 Lubbock, TX Xfest – radio show – pavilion stage at Lonestar Amp
Apr 24 Odessa, TX Dos Amigos
Apr 25 Houston, TX Warehouse Live
Apr 27 St Louis, MO Pops Nite Club
Apr 28 Concho, OK Lucky Star Casino
May 11 Clear Lake, IA Surf Ballroom
May 16 Winston Salem, NC Ziggys
May 17 Baltimore, MD The Power Plant Live
May 18 Huntington, NY Paramount
May 19 Santa Cruz, CA Beach Boardwalk
May 20 Columbus, OH Rock On The Range
May 21 Clifton Park, NY Northern Lights
May 23 Knoxville, TN Valarium
May 24 Biloxi, MS Hard Rock Live
May 27 Carlsbad, NM Walter Gerels PAC
James Durbin – "Stand Up"

James Durbin – "All I Want"

James Dubrin – "Love In Ruins"

James Durbin – "Higher Than Heaven"

Are you planning to catch James Durbin as the tours this spring?