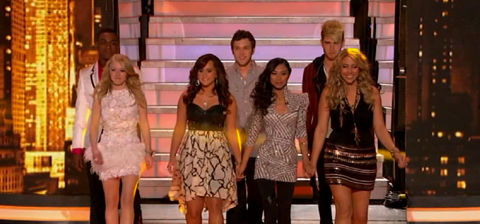 American Idol 2012 viewership ratings nearly held steady on Wednesday night for the "This Decade" performance show. 16.8 million viewers tuned in to watch the Top 7 take on their modern favorites which was a small dip from the previous week's 17.1 million viewers. I would have expected more since the theme was one of the better options we've seen for the Idol Hopefuls, but pulling in nearly 17 million viewers for 10 songs over 2 hours isn't so bad either.
The big jump came on Thursday night when viewership climbed 1.5 million over last week's numbers as audiences tuned in to find out what was going to be so "shocking." Well they weren't disappointed! Total viewers on Thursday night's American Idol reached 15.8 million versus the previous week's 14.3M.
I'll be very interested to see how this week's Top 7 results will impact next week's ratings for American Idol 2012. Will viewers be disillusioned by the previous outcome or driven to watch and vote even more than before? I'm sure production is hoping on the latter.
Source: TV By The Numbers