The American Idol 2015 finale is going to be quite the "dramatic" competition, according to host Ryan Seacrest. No matter how many years he's been hosting the show, he still gets worked up and excited for the American Idol finale every season.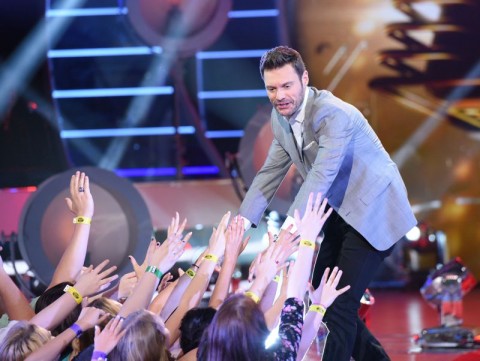 ""It's a rush for me.  I think it's probably a little more nerve wracking and a lot more pressure for them, but it's a rush," Ryan Seacrest told Fox Audio Central.
" You know, every year I stand on the stage, I look down at the card and, you know, I get to see the name.  It goes through my brain quickly and then went out to the audience, and you're always excited for that person and also excited for the runner up because they too have made an incredible accomplishment by being in the finale."
Ryan Seacrest thought the Top 4 performances show was "very exciting" and a lot of that had to do with the song choices. "I think that, you know, the experts picking the song are pretty good at selecting songs and also knowing what the audience might respond to at this stage," he said. " So I think that that added to the show tonight and it made it very exciting.
Despite his extreme anticipation for the American Idol finale coming up, Seacrest said he was sad to see Rayvon Owen go home. "Unfortunately we can't take everybody, and next week's going to be very dramatic, but tonight I stood up there with Rayvon for so many weeks, it was tough to actually have to say goodbye to him this week."
Looking at the remaining Top 3, however, Seacrest isn't shocked to see who made it through to American Idol finale week for 2015.
"I don't know that I'm so surprised, but I'm happy with this group.  I mean you look at Nick, here's a guy that wasn't even going to try out who was playing guitar in the background for his friend who's Skype auditioning and we're like, "Why don't you try it?" and he's going to the finale next week," Seacrest told Fox Audio Central. " You've got Jax who is just this amazingly unique individual, and of course Clark who's got his vibe too.  So I think it's a good group to bring into the final week."
Making the whole American Idol 2015 finale all that more exciting is the big move to the Dolby Theater in Hollywood for the main event. Even a mega-famous TV host and producer like Ryan Seacrest feels a bit awed by the location, and hopes it will move the contestants to new heights.
"You're standing on a stage where the Oscars are broadcast every year, so there is an incredible amount of energy and respect and history on that stage, Seacrest said. "I think it will certainly inspire them to really bring out their best."
Join us for the American Idol 2015 finale next week and find out who will be the next American Idol winner!