Rayvon Owen's American Idol 2015 journey came to an end last night when Ryan Seacrest revealed he had earned the lowest votes from the Top 4 performances. Having lasted more than an extra month thanks to an impressive run on the Idol Fan Save it was finally Rayvon's time to go.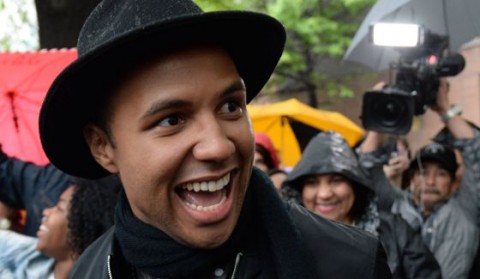 Speaking with FOX Audio Central, Rayvon got a chance to tell fans about his experience. Looking back at his time on American Idol, Rayvon is especially proud of how far he's come as an artist.
"Oh my gosh, I just see growth, you know.  I see perseverance.  I see, you know, just my character growing, and not just as a musician and as a singer, but just as a person, you know.  I will forever be changed by this experience," said Owen.
Fans ready to get ahold of Rayvon's music will be happy to hear he's ready to go to work. As for what his sound will be, we'll get a mix of two genres in line with what we came to expect from him on the Idol stage:
"You know, it will be universal, but definitely, you know, I love pop music and it's going to be pop with a soul edge and very emotional, you know.  

Some of the greatest moments I guess that you've seen from me on this show is what I'm ready to pour into an album as a songwriter and as a singer.  

So I'm ready to share that with the world. It's going to be fun. It's going to be good."
Despite Rayvon's on-the-ropes position for the past many weeks on American Idol 2015, he never seemed to lose that smile and remained optimistic about the experience throughout:
"I think America got to see me open my heart, open my soul right in front of them.  And that's really a special thing that I've shared with the public, you know, and I think that's what has gotten me to this point and will continue to progress me as I move along in music," Rayvon explained to FOX Audio Central.
Congratulations to Rayvon Owen on making it to the Top 4 on American Idol and continuing to develop his great music potential.
Source: FOX Audio Central