American Idol 2014 runner-up Jena Irene Ascuitto said something very interesting in a post-finale interview last night. It seems that her incredibly happy reaction to friend Caleb Johnson being crowned the American Idol winner last night may not have just been a brave face she put on. Jena Irene might have actually been just as thrilled taking second place as Caleb was winning it all.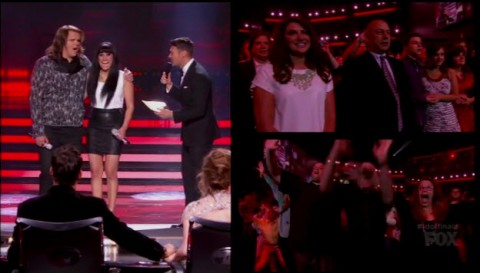 Before the season 13 finale this week, both Jena Irene and Caleb Johnson said repeatedly in interviews that they didn't care who won American Idol. The two finalists truly seemed like they would be pleased no matter what happened when the final votes were tallied. When host Ryan Seacrest announced Caleb Johnson was the American Idol winner, Jena Irene seemed almost more pleased than he was over his win!
Speaking to FOX Audio Central after the American Idol finale results show, Jena Irene actually seemed to say that come in second was what she was hoping would happen.
"This is the place that I wanted, so I'm so incredibly happy right now," Jena said. "And I'm so happy for Caleb."
Jena said in the days leading up to the finally that she and Caleb were totally supportive of each other. Right up until the final results, they were each other's biggest cheerleaders.
"I hope you win. I'm going to help you no matter what happens," Jena said they were telling each other right before the winner was announced. "Like it really doesn't matter. I'm like we've been saying that for the past two days, but really it does not matter."
Whether she truly is happy with second place or secretly wishes she had taken the win, Jena is just terribly excited to get on with the next phase of her career — working on her new album!
"It's big, and I'm so excited," Jena said. "To be honest… I don't really know exactly what it's going to sound like, but I'm excited. I mean, that's the beauty of it. I don't need to know what it sounds like. I'm just going to write it and see what comes out."
* Interview courtesy of FOX Audio Central