The name of American Idol 2014 finalist Jena Irene Asciutto was revealed first by an exclusive leaked list from The Idol Pad of season 13 hopefuls. We initially couldn't find anything about this contestant at first because her name was listed only as "Jena Irene" on the spoilers lists. So for a long time, Jena was just the 'mystery girl' among the contestants until we finally saw her on screen. Then she went from mystery girl to a strong fan favorite virtually overnight.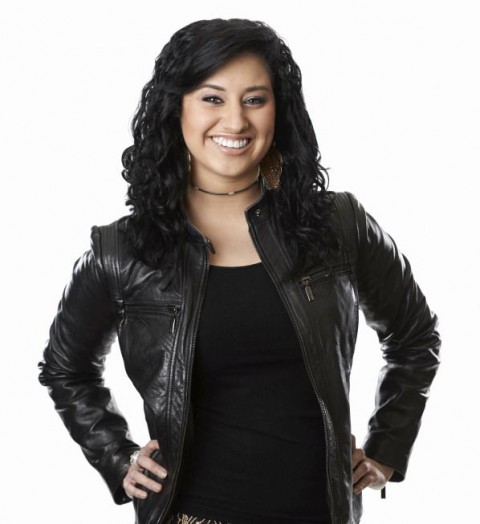 Facebook | Twitter | YouTube | Fan Page | Idol Fan Page
Jena prefers her first name be pronounced like "Gina" — which caused no end of trouble with the American Idol judges for a while who were still mucking it up all the way to the Top 10! Now, however, we think the judges and American at large won't be messing up her name after she made it all the way to being the American Idol 2014 runner-up!
Jena Irene Asciutto was previously the lead singer with a popular Detroit high school rock band named Infinity Hour formed in 2008, according to MyFoxDetroit.com. You can check out their Facebook page here, although it hasn't been updated since February of last year. The band was made up of Asciutto, singing lead vocals; Jared Bentley, on lead guitar; Brad Rude, on bass; Katelyn Perrett, on rhythm guitar; and Dylan Walsh, on drums.
In the "About" section of the page, Jena talks about her big dreams for the future. They also have a number of quite nicely produced videos on their YouTube channel, including this one below.
"My dream," says Asciutto, "would just be touring and having the world listening to our music and knowing all the words to our songs. And helping people through their problems, because music is definitely a healing process for me and millions of others."
Asciutto also talks on the band's page about being a songwriter, and many of her videos feature original songs. "In the past," Asciutto said on the band's page, "I've written a lot about young love and heartbreak. Sometimes I like to write from another person's point of view, but I've also written about real life experiences, like my parents' divorce, and I think a lot of people can relate to that. But it's not all dark and sad. I can be inspired by watching a movie, or just by being happy and loving life."
Jena had several songs already out there on iTunes before coming on American Idol 2014. Her former band, Infinity Hour, also has a five song EP available called Infinite Stars of Mine.
From what we can tell, Jena and her band seemed to have been well on their way to making a name for themselves, at least locally in Detroit. The band certainly has plenty of Internet presence as well, and it looks like they had someone out there doing a good job with press and publicity. Reviews of the band were very strong and they seemed to have been growing a steady, if still small, fan base.
Then, the last few posts on the Facebook page talk about band members Jared, Dylan, and Brad now in a new band called The Social Bandits. So we're guessing something happened with Infinity Hour and the band broke up, leaving Jena Asciutto to strike out alone… and apparently audition for American Idol 2014!
Flying solo seems to have been a good decision for Jena, who now has a bright future ahead of her as the runner-up on American Idol 2014. She's already talking about working on her new album and can't wait to go on tour this summer with the rest of the American Idol season 13 Top 10!
Jena Irene American Idol Performances
Season 13 Audition:
Road to Hollywood:
Hollywood Week Solo:
Hollywood Week Final Judgement:
Top 31 This Is Real Profile:
Semifinals Rush Week:
Semifinals Wild Card:
Wild Cards Are Chosen:
Top 13 Interview:
Top 13 Performance:
Top 12 Performance:
Top 11 Audition For Jena Irene
Top 11 Performance:
Top 10 Performances:
Top 9 Performances:
Top 8 Performances:
Top 8 Redux Performances:
Top 7 Performances:
Top 6 Performances:
Top 5 Performances:
Top 4 Performances:
Top 3 Performances:
Jena Irene Hometown Visit:
Top 2 Performances:
American Idol Finale & Results: