American Idol 2015 judges Jennifer Lopez, Keith Urban, and Harry Connick Jr. invaded Nashville, TN to hear their first auditions for season 14. Nashville will be at the center of the spotlight on the American Idol premiere Wednesday night, and we're already excited about the talent we hear will be wowing the judges in Music City!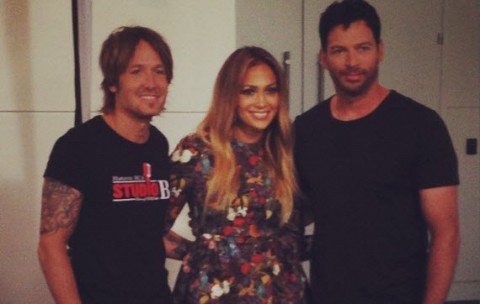 The first American Idol auditions judges' round in Nashville kicked off on a Sunday and finished up on Monday afternoon. Most of the premiere episode will focus on auditions from Nashville, followed by a brief skip over to Kansas City, which will be further explored on Thursday night. The American Idol judges heard about 30 singers each day, according to USAToday. The American Idol judges were reportedly very picky in Music City, apparently only finding a handful of Golden Ticket winners they truly thought had the right stuff.
"Sunday was a good day, but it wasn't an explosive day," Jennifer Lopez said. "We found two or three people who could be in the top 12 — really pure artists, not just good voices." In a new twist for the season 14 auditions, some of the hopefuls actually got the chance to audition with a piano this year. Perhaps the fan love of former American Idol 2013 finalist Angela Miller, and last year's runner-up Jena Irene Ascuitto, contributed to that idea? Guitars were also allowed once again.
"The last few years, they've let people sing with a guitar, so they thought, 'Let's bring a piano in the room,'" American Idol music director Michael Orland said. "In the old days, in Hollywood Week, they would step it up a little the first time they played with a piano or a band. They're doing that a little earlier now, so they'll have to do that much better during Hollywood Week."
Some of the contestants who made it through to Hollywood from Nashville include a coffee shop barista who was literally plucked from behind the counter by a producer to perform for the American Idol judges, and a pedicab driver also recruited to sing for them.
Judge Harry Connick Jr. said that finding a contestant with real star potential "is an intangible, mysterious thing. And what makes them compelling in an audition room in Nashville may not work in the Idol stage, and it's almost impossible to know."