American Idol has being doing it's best for years to prop up flagging ratings. They've tried new American Idol judges galore from talk show host Ellen DeGeneres to crazy fashion explosion Nicki Minaj. Every year, however, it seems harder for the show to recapture the magic of the old days.
So what might be the next step for American Idol 2015 or beyond? Well, why not out with the new and bring back the old? How about a reunion of original American Idol judges Simon Cowell, Paula Abdul, and Randy Jackson? If Mr. Bad himself has anything to say about it, we might just see it happen!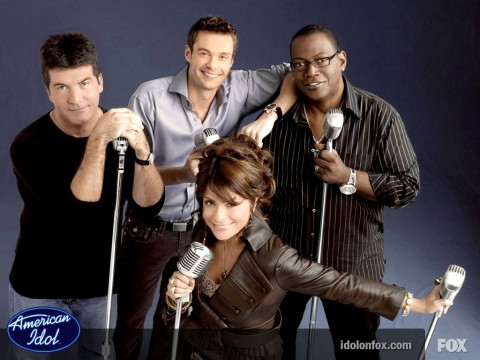 In a teasing message posted on Twitter this week, Simon Cowell waxed poetic about the glory days of American Idol when he sat behind the judges' table with Randy and Paula. With one little tweet, he basically threw the doors wide open to a possible invitation for him and his fellow former American Idol judges to return.
One day Paula Randy Me and Ryan will reunite. I know it will happen. It was a special time.

— Simon Cowell (@SimonCowell) March 27, 2014
Now that The X Factor USA has been cancelled, we don't see any reason why Simon Cowell couldn't hop back on board the Idol train with baby momma Lauren Silverman and new son Eric in tow. But would bringing back the old American Idol judges be a good thing for the show?
Would you like to see the old crew return for American Idol 2015 or maybe for the final season whenever that happens? Or do you think Simon, Randy, and Paula are best left in the closet of past American Idol judges, never to reunite on the show again?