The mystery of why American Idol 2014 finalist Dexter Roberts went missing from the live tour has finally been solved. Dexter has not appeared on the tour since the beginning of the July and here were no indications he would return. No information was released about why he had suddenly vanished. The only clue to what happened was a short tweet from fellow American Idol 13 finalist Jessica Meuse, who said he was "dealing with an illness."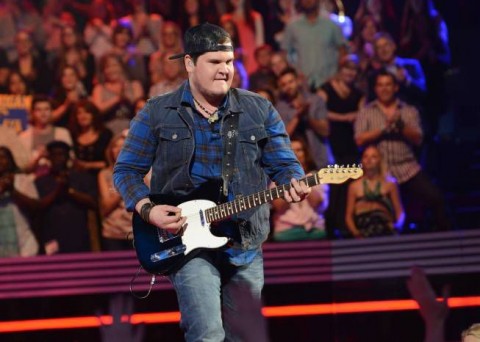 Rumors ran rampant over why Dexter Roberts would bow out of the American Idol Live Tour when it offered him a steady income, a chance to grow his fan base, and plenty of publicity for his music. After the news hit the press that Dexter was missing, Yahoo reported that "a source close to the Idol camp" told them Dexter was "released from his contractual obligations to continue performing on the tour."
Now Dexter himself has finally come forward to reveal why he left the American Idol Live Tour. Apparently the young country singer has been battling a severe illness he contracted shortly after the American Idol 2014 finale. Dexter told the news to his fans on Facebook.
I would like to take this opportunity to thank all my fans, friends and family for all their prayers, patience and support through my illness. After months of hospital and doctor visits, I finally have a diagnosis. I have Rocky Mountain Spotted Tick Fever, with symptoms of fever, rash, headache, abdominal issues, shortness of breath and muscle pain.

After the American Idol finale show in May, I went on a turkey hunt in Kentucky. I found several ticks on me throughout the 4 day hunt, but that is nothing unusual for turkey hunting. Shortly after the American Idol tour started, I started having serve headaches, chest pains and muscle weakness on my left side, along with tremendous abdominal issues and shortness of breath. The medical facilities, while on tour, were unable to make a diagnosis. After my return home from the tour I found myself, once again, back at a hospital emergency room, where the doctor discovered a rash in my head from the tick bite. Day before yesterday, the blood work confirmed I have Rocky Mountain Spotted Tick Fever. I started medication yesterday.

Please continue to pray for my full recovery. I know God is in control of my life, and his path will be made clear for my music career. He is my rock and salivation, and I [am] trusting in him.
We are so glad he was diagnosed in time to get treatment quickly as this illness can be potentially life-threatening. We wish Dexter a speedy recovery and send positive thoughts his way that this terrible illness will soon be in the past and he will be back to making music soon!