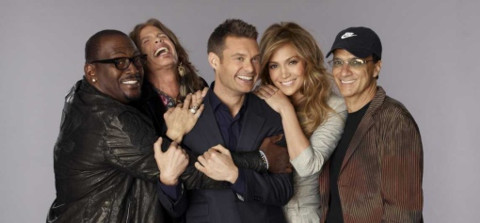 The decision to move American Idol on past its 2011 auditions a little early was a wise one. Interest (and viewership) seems to wane during those third and fourth weeks of Idol auditions and we saw that here as well with our readership. But as things shift in to the real competition with the launch of Hollywood Week the crowds came rushing back, as the LA Times notes:
With the auditions over and the Hollywood round in full swing, "American Idol" led Fox to its fourth consecutive Thursday night victory in the ratings. According to Nielsen's estimates, 21.7 million viewers tuned in to the show at 8, far more than any other program that night.
It's great to see those fears of fans running away this season vanishing as Idol continues to dominate whatever night it decides to air. Do you think it's been the new blood at the judges' table, a better pool of hopefuls, or simply the magic of American Idol itself that is keeping the ratings so high this season?
Sad note for Paula fans. Abdul's "Live to Dance" show apparently stopped dancing because it was killed off from any future seasons due to low (really low) ratings. Sorry, Paula. Maybe it's time to give Simon a call about an opening on X Factor…