With just a few weeks to go on American Idol 2016 the final season's Top 6 contestants took the stage tonight to await their fate as the Top 5 would be performing songs of your choosing as part of double performances with a single elimination.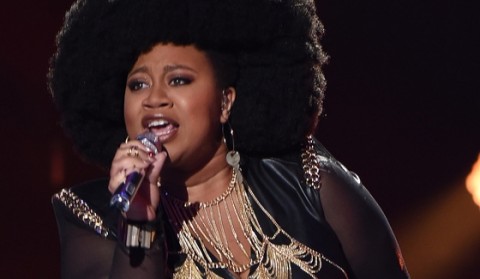 Judges are set to decide who goes home tonight after America narrowed the results down to a Bottom Two before one more would be sent home. Joining the Season 15 finalists was Season 8's Adam Lambert as he opened the show with a performance of "Mad World," which he famously performed back in 2009 on the Idol stage.
We'll be right here through the Top 5 performances and results so keep this page refreshed for the latest details on who sang what tonight and how to vote for your favorites. Who stays and who goes home tonight? It's time to find out. And the first person safe is …
Trent Harmon, "Counting Stars." I don't like this song for him. Bad job, America. But you guys tend to make horrible decisions when it comes to music. That being said, he sounded good. He can't sound bad. But it was by no means his best performance. Keith and Jennifer realize that America was stupid for picking that song and Harry gives him a pass.
Vote for Trent: 1-866-436-5710
Dalton Rapattoni, "Numb." This song makes more sense for Dalton than Trent's did. But not THAT much sense because Dalton isn't a great vocalist and this song choice kind of proved that. JLo says that he took the "umpf" out of the song and Harry thought he poured his guts into it and spent time thinking about the lyrics. Keith thinks it was somewhere in between where it should have been.
Vote for Dalton: 1-866-436-5705
La'Porsha Renae, "Ready For Love." Well. This song was good for La'Porsha vocally, but it's still a weird choice, America. Who really knows this song? Did I miss the year this was a hit? Anyway, La'Porsha is always awesome and even though this came off a bit boring, it was a great vocal. Harry and Keith loved it and Jennifer said it was a complete performance in every way.
Vote for La'Porsha: 1-866-436-5708
And the last person who is definitely safe this week is …
MacKenzie Bourg, "Wild World." This is the song that Trent should've sang in stead of MacKenzie. So yet another bad choice, America. This was pretty boring and not even his style. I'm just going to stop judging these America's choice songs. Keith compares MacKenzie to cake batter. Jennifer says he has so much likability that she enjoyed it even though it was a bad song choice. Harry liked the tempo and thinks it actually was a good song choice.
Vote for MacKenzie: 1-866-436-5707
So this means the bottom two are Sonika Vaid and Tristan McIntosh.
First up singing for the judges' save is Tristan.
Tristan McIntosh, "Indepence Day." This was a smart song choice. I'm not sure I like it slowed down because it's just meant to be an upbeat song. So that was weird. But her vocals were probably the best they've been for her. Jennifer implies that Tristan has flatlined. Harry thinks she's good at singing songs that come from pain and that she needs age to back up her gift. Keith thinks she's beautiful and has a great voice but thinks she needs to work on her artistry. Things aren't sounding good for her.
Sonika Vaid, "Let It Go." This is also a smart song choice. If she gets the save, it would definitely be a song a lot of people could vote for. Of course she did Demi's version, which is less solid than Idina Menzel's but I get why this was the version she chose. This was a pretty solid performance. I think she did best Tristan, but just barely until she pulled out the big note near the end. Then she sort of slaughtered Tristan. Harry thought that was a smart song choice. Keith thought it was beautiful and JLo says she's fierce and a fighter. I think Sonika has the save in the bag.
Vote for Sonika: 1-866-436-5709
And the save goes to Sonika! That means the journey ends for Tristan.
Now it's time for Round 2 so let's go!
Dalton Rapattoni, "The Sound of Silence." This was a much better song choice for him. And it was smart of him to arrange it as dark as the song can be. I've been pretty tough on Dalton, but I have to say, I liked this. It's definitely my favorite performance by him. For me, this was his big moment. It definitely opened my eyes to him. Keith thought it was good because he brought us into the song. Jennifer liked that it was powerful and Harry likes that he thrived not he poetic lyrics.
Vote for Dalton: 1-866-436-5705
MacKenzie Bourg, "Billie Jean." We've heard a similar version of this song before, but I really liked MacKenzie's version. This was a smart choice. MacKenzie is good at taking songs and flipping them and this was another one of those instances. Jennifer was riveted. Harry said it was terrific and Keith is a big fan.
Vote for MacKenzie: 1-866-436-5707
Trent Harmon, "Simple Man." This song makes a lot of sense for Trent. Of course we've also heard it on Idol (Lee DeWyze) but Trent is a much better performer than Lee. This was a pretty mild week for Trent, but he's always a great performer no matter what. Harry says that Trent's southern essence comes out and is appealing. Keith thought it was a perfect song for him and JLo got choked up talking about how perfect this performance was.
Vote for Trent: 1-866-436-5710
Sonika Vaid, "Clarity." Sonika has definitely found her confidence but I didn't love this song for her. She's not the best when she's moving around a lot and this was one of those times that he really showed. Keith thought it was a good song for her, but Jennifer thought the opposite. Harry went on a Harry ramble so we're skipping him.
Vote for Sonika: 1-866-436-5709
La'Porsha Renae, "No More Drama." This was a great song choice for her — probably America's best decision of the night. And of course she nailed it. She always does. It was powerful and emotional and perfect. Jennifer was again brought to tears and calls La'Porsha an inspiration and since we're out of time, Ryan doesn't let Harry and Keith speak.
Vote for La'Porsha: 1-866-436-5708
Find us on Facebook, Twitter, and Email Updates for the latest American Idol news.