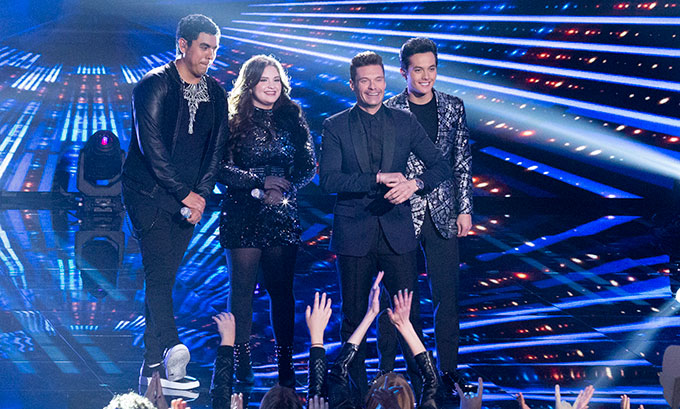 After months of grueling performances, judgements and votes, it all comes down to this. Ryan Seacrest is about to announce who won American Idol 2019. Is it country/classic rock southern boy Laine Hardy, teenage sweetheart with the big voice Madison VanDenberg  or the enigma Alejandro Aranda?
Before we get to the Idol results, we've got two hours of performances from the Top 3, members of the Top 10, the judges (Katy Perry, Luke Bryan and Lionel Richie), Carrie Underwood, Adam Lambert, Dan +Shay, Weezer and more.
While we wait to find out who wins American Idol 2019, let's take a look at who could win. We have already made our predictions that Laine Hardy is most likely to win this thing based on past winners and how the voting has seemed to play out this season. But as we saw last season, it's anyone's game so we could see a Madison or Alejandro win just as easily as Laine. Our readers have also picked Laine as the person who should win American Idol. But it was pretty close between him and Madison. Laine earned an 45.45  percent of the vote in that poll while Madison got 34.92 percent. I think it's anyone's game, really. We've all seen the most popular contestant lose in the past, so don't be surprised by any of the three winning this.
It's almost time for some results. One of the Top 3 will get cut about halfway through the night.
Alright, dim the lights and let's get to the results!
American Idol Results
American Idol 2019 Top 2:
Laine Hardy
Alejandro Aranda
American Idol 2019 Winner:
Runner up:
3rd Place:
What do you think of the results? Did American get it right? Did your favorite win Idol?
And just because the season is over doesn't mean our coverage is! There's more to discover and discuss so stick with us on Facebook, Twitter, and by Email Updates for even more American Idol.