Ready for another round of American Idol returning stories? This time the rumors going around suggests American Idol 2018 will return to ABC as the network has made an offer and is working to secure the series for themselves.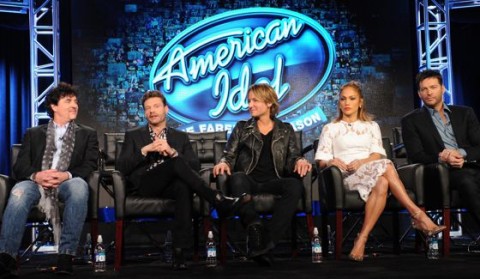 After the floated and failed round with stories of Idol heading to NBC that's now been sunk. Of course a lot of that story started and ended with TMZ as the sink and source. Well guess who has a new story about a new network. Luckily, THR is backing it up this time so maybe we've actually got something to look forward to after all!
Sources tell The Hollywood Reporter that ABC is considered the front-runner to land the singing competition's return — though its original network Fox is still said to be in the mix. ABC, Fox and producers FremantleMedia and Core Media Group all declined comment.

TMZ reported Thursday that ABC is likely to land American Idol's return — for a March 2018 launch — with a formal announcement expected at its May 16 upfront presentation to ad buyers.
With ABC in the picture you'd think Ryan Seacrest's new deal to co-host Live with Kelly Ripa might be a link to getting him back as the Idol host. That's actually probably not going to happen.
Live is filmed in NYC while Fremantle is said to want to keep American Idol filming in Los Angeles. Unless Ryan flies back and forth for the results show each week and everything in between then I don't think he'll be there. Idol without Ryan Seacrest? Ouch.
FOX isn't completely out though as THR reports they're still in the mix for discussions. Is Fremantle just toying with FOX? Why keep them involved while talking with all these other host networks? Maybe sticking it to them for their decision to let the series go last year?
We could know as soon as in a few days with ABC's upfront for the 2018 season content during their May 16th presentation. We'll keep an eye on this, but if TMZ suddenly reports that ABC has balked and it's back in limbo then don't be surprised.
American Idol without Ryan Seacrest and on ABC? Well that'd be weird. Really weird. But would you watch it? Of course we will, but would you?