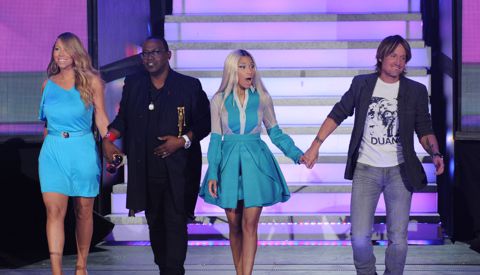 American Idol last night featured an all-girls lineup now that the boys are gone which means for the first time this season a female finalist will be forced to sing for her Idol life. That also means the judges may actually decided to use it.
We had long suspected the judges closed-fist approach to using the Save was linked to wanting to keep the girls around for as long as possible. Now with all the guys gone and this being the last week the Save could be used we're fully expecting some extra drama at the end of the night.
Another big clue is looking at the American Idol 2013 schedule. Should no one be saved tonight we'd be down to the final two singers facing off on May 8, 2013, one week before the Season 12 finale.
With all that in mind, yes, we expect the judges to use the Save tonight on American Idol when the lights are dimmed and Ryan Seacrest reveals the results.
What do you think will happen? Do you want to see all five of these ladies take the stage again next week for the wild card & one-hit wonder theme?