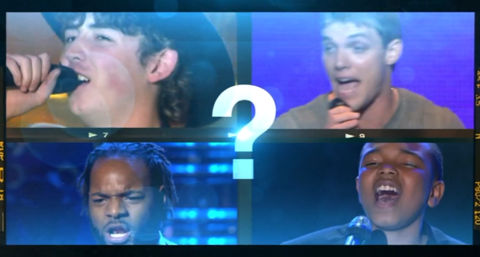 Speculation abounds over potential American Idol spoilers for who may have snagged the coveted 13th seat among the male finalists for season 11. But wait, there's more! Spoiler sources also claim there may be a 13th female opening as well. Of course it's all unconfirmed rumors until the live show begins this Tuesday, but if you can't wait to find out then read on.
TIP is at it again and says the American Idol 2012 Top 13 Guys spot goes to… Jermaine Jones. If true, that news is going to disappoint about 80% of our readers who voted for one of the other three singers in our poll. Looks like the race remains very close between David Leathers Jr and Johnny Keyser. I would expect Idol production to bring back the most popular male singer, but maybe they're going for an easier elimination down the road with a less popular singer.
Now over to the other side of the aisle. TIP also claims there they may be a 13th girl added to the roster and if that happens it might be Schyler Dixon. That's a lot of uncertainty. Considering how much FOX and American Idol likes to pimp "surprises" to the point of not being surprises then I'd expect them to be doing the same on this. Then again, since the ladies don't perform live until Wednesday Idol could be waiting to drop this spoiler bomb until Tuesday's show. We shall see.
If it is Jermaine Jones that gets a second chance at American Idol season 11, will you be satisfied or let down? What about the rumor that Schyler Dixon may rejoin the finalists as well? Should it be Lauren Gray instead?