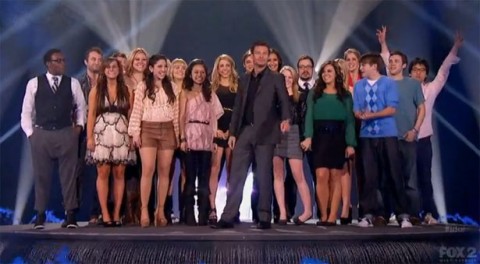 Last week we saw the American Idol 2012 Top 24 come together, and while we wait to find out who that 13th guy is (and possible that 13th girl), it's time to go through our Top 24, one by one, based on what we've seen so far.
Deandre Brackensick: I remember more about him from last year's American Idol, than this year, but what we've seen from him so far has all been good. He's got a very strong voice and a great look. He might lack a tiny bit of energy though. Or maybe it's confidence? I think he'll get past those issues fast after a live performance or two. I think his chances of making it to the Top 12 are somewhere in the middle.
Adam Brock: Adam has a stong voice, but I'm not sure he's the complete package. Hey, it's not me who makes those calls, it's mostly teenage girls. I think he could be at risk of not making it to the Top 12.
Baylie Brown: Baylie has a strong voice and a nice sound, but she might be hard to stick out. I mean she's gorgeous, and if there are any male voters out there, they'll probably throw their calls and texts her way. BUT, she looks like several other of the girls. Her chances are still pretty decent of going to the Top 12.
Hollie Cavanagh: She's got a great big voice and a lot of control of that voice. She's had a somewhat large following since she was cut last year, so I think her chances of landing in the Top 12 are very good.
Hallie Day: Much like Baylie, she doesn't stand out. Yet. I think she earned her spot in the Top 24, despite some Hollywood Week misteps, but I'm not so sure how long she'll last. I think her chances of making it to the Top 12 aren't that good.
Colton Dixon: Colton is one of those artists that are at home behind his instrument, so I'm not sure how he'll do without one for a couple weeks. I think he's a great performre and will definitely get a lot of teen fans. I think his chances of going to the Top 12 are about 100 percent.
Creighton Fraker: This guy has one of the best voices in the Top 24. I think he's ready to have a contract already. I think he was shown enough in the audition process that he will do well for a while, but won't go all the way. Top 12 for sure, though.
Eben Franckewitz: This kid has some voice for his age. I think his range might be limited though. I could see him struggling with certain themes. His chances of making the Top 12 aren't too bad. 
Reed Grimm: I think Reed's a genius. And I think his wacky stage presence is very charming. I think he's been shown enough to already have a fanbas that will vote him into the Top 12. Let's just hope those people who hate "different" stage presence (think Paul McDonald) can learn to love him too.
Heejun Han: Betweem this guy's camera time, comedic timing and singing ability, he's going to the Top 12 for sure. I don't even have to say anymore.
Jen Hirsh: I think Jen has already developed a nice following, as well. I think she has one of the stronger voices in the Top 24, and since she's not a blonde, she does stick out more than some of the others. Her chances of Top 12 are pretty good, I think.
Haley Johnson: I barely remember Haley. I'm not sure if it's her fault or editing. I think she falls into the "doesn't stick out" category and is probably not too likely to break the Top 12. Unless her live performance is stellar, of course.
Skylar Laine: Once she got past the dramatic passing out phase of Hollywood Week, she soared. I think she has a great sound. But as one of our readers pointed out, comparing someone to other singers, like I have Skylar (to Reba), means she's not exaclty unique. I still think she'll get a lot of the coutry vote and easily slide into a Top 12 spot. 
Joshua Ledet:  I think Joshua is one of the best guy singers this season. I think he could easily blend into the background though if he doesn't do something to make himself stand out. But his name comes up a lot in our comments section, so if half of those people vote, he should be just fine. His chances of Top 12 are somewhere in the middle, I'd say.
Chase Likens: A victim of no camera time, Chase's chances are slim. We've heard him sing for all of three seconds during a Vegas round. I know he can sing because I've heard him sing in real life, but America doesn't. He could pick up some country votes after the live performances start though. But I think his chances of breaking the Top 12 are not good. At all. Unfortunately. 
Shannon Magrane: I think Shannon might be able to just slightly edge above Baylie and the Haley/Hallies, but she still needs to make sure she stands out. She has similar sounds and looks to the others. They sure didn't go with diversity when it came to the girls this year, did they? I think her chances of Top 12 are somewhere in the middle.
Aaron Marcellus: Aaron is a great singer and I hope he makes the right song choice. I think his chances all rely on that. His name has come up a lot in comments, but I think he could easily be overlooked by voters. His chances of Top 12 aren't too bad. 
Phil Phillips: With his unique sound and camera time, Phil is definitely going to make it into the Top 12, I think. And even though it's early and I don't want to jinx anthing, I think he might be one of my favorites.
Jeremy Rosado: I'm wondering if Jeremy might be the Brett Lowrenstern of the season. He had a lot of camera time and a lot of buzz but then didn't make it past the first live votes. He's a great singer, but as we know, that's not always enough.
Jessica Sanchez: I'm just going to say it. I think she's the BEST female singer this season. Not one of the best, but the best. If she doesn't make it to the Top 12, there's a problem.
Chelsea Sorrell: Can Chelsea and Skylar both make it through this competition? I think so. They're both good enough to. If it does come down to a which one of these, I think Skylar might edge her out, though. Her Top 12 chances are pretty good.
Elise Testone: I love Elise's hard edges. She's a little rough and raw. And raspy. I think she will put on a great show and will definitely stick out. But, I have a bad feeling she won't get enough young voters and might be at risk of not cracking the Top 12. Sigh.
Erika Van Pelt: Erika is another great voice and unique sound. She reminds me of Kelly Clarkson. I think votes for her could go either way. She probably shines through a little more than some of the other girls, but I could see her being overlooked. I think her chances of making the Top 12 aren't that bad, though.
Brielle Von Hugel: Hmm. I think she's a good singer. But her attitude and her mom's attitude left a bad taste in my mouth. And if we learned anything from last year with, attitude can definitely make or break you the first couple week's of live voting. Just ask Clint Jun Gamboa.
Now what's your take on this year's American Idol Top 24?