On the American Idol 2014 premiere, the show visited Boston, MA and Austin, TX to hand out the first Golden Tickets of the season. We've already brought you our choices for the best Boston auditions for season 13, now we offer up our picks for the best from the first part of the Austin auditions. (Check out part two of the Austin auditions here.)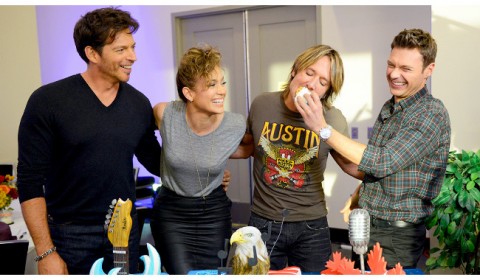 The first round of American Idol Austin auditions took place for season 13 back on August 7, 2013 at the Frank Erwin Center. Those who were selected in the first round moved on to sing in front of the producers before finally being called back to sing in front of Jennifer Lopez, Harry Connick Jr., and Keith Urban.
The American Idol judges were impressed with quite a few talented singers from Austin, and we could easily see a future winner coming out of Texas this year. One of the singers we really enjoyed on premiere night was 21-year-old Savion Wright, who wowed the judges with an original song.
Madelyn Patterson, a 22-year-old hairdresser from Jackson, GA, had the American Idol 2014 judges listen with total attention while she belted out "Up the Mountain" by Patty Griffin. When Madelyn stopped singing, Keith Urban just lets out a quiet "ummm" and Jennifer Lopez tells her to just "don't say another word." We agree she was one of the best of the night.
Malcolm Allen, a 21-year-old deli grocer from Wrightsville, AR had the American Idol judges just loving his whole performance from start to finish, including his air bass skills! Keith Urban gives him an "oh yeah" while Jennifer Lopez leans back and drinks it all in with a smile. When Malcolm starts singing, she is like "oh come on" at how good he is. She says it's just "so natural for you, I want to throw this pen at you."
>> Click to the next page for a sneak peek at part two of the Austin auditions!
American Idol 2014 Austin Auditions Photo Gallery
(click the pics for bigger photos or to scroll through)
Be sure to tune in with us for more American Idol spoilers, news, recaps, and more all season long!