Part one of the American Idol season 13 premiere kicked off with the season 13 Boston auditions on January 15. We saw some seriously terrific talent in Beantown, and the new American Idol 2014 judges were in rare form!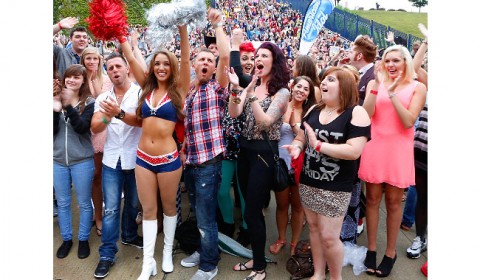 We are happy to report that all that chemistry that seemed to be screaming between the American Idol judges in the season 13 promos was front and center in the premiere episode. Keith Urban, Jennifer Lopez, and Harry Connick Jr. just genuinely seem to like each other and be enjoying what they are doing. The three of them also seem to have a great connection with the contestants and truly thoughtful and constructive things to say to the singers going in front of the panel. Of course, they aren't afraid to break out into some silliness and have some good, honest fun as well.
Although the American Idol XIII premiere featured the Boston auditions and first part of the Austin auditions, the first singer we actually saw was from Detroit. A bit confusing, but there you go, so we'll throw her in here even if it is the wrong city because she was just delightfully good.
The first American Idol 2014 contestant to have her audition on the show was Marrialle Sellars, who performed in Detroit, not Boston. After her stellar performance in front of the American Idol judges (for which she receives a Golden Ticket), we hit the ground running at the actual Boston auditions.
Our favorite male audition from Boston was singer/songwriter Sam Woolf. Sam is actually one of our very, very early favorites to potentially make it at least to the semifinals this season, based on what we've seen and heard from him so far.  His audition wasn't even the best song we've heard him do, you should check out some of his original material.
We would put Ethan Thompson as one of our favorites, but honestly, he just reminds us way too much of former American Idol winner Phillip Phillips. We think there is only room for one Phillip. However, former The X Factor semifinalist Jillian Jenson is also in the clip above, and we definitely count her as one of our favorite girls from the Boston auditions.
Country is not our favorite genre for American Idol contestants, but one of our other favorite girls of the evening was country singer Kaitlyn Jackson. We just honestly couldn't believe she's so young.
While there were some "bad" auditions this season in the premiere, so far it looks like there are a lot LESS of them and very few of those cringe-worthy contestants who make you just feel horrible for them to be dragged in front of the cameras as a joke. We really, really approve of that change this season. The talent is also quite varied, in our opinion, with singers from a lot of different genres with diverse styles. Most of the hopefuls are primarily only the younger side, but that's pretty much to be expected.
So far, we are feeling very positive about what we've seen in the American Idol 2014 premiere and hope things will only go uphill from here. Be sure to tune in for the kick-off of American Idol season 13 from 8PM to 10PM ET on FOX this Wednesday evening! Meanwhile, enjoy some fun American Idol spoilers photos from the Boston auditions below.
American Idol Boston Auditions 2014 Photo Gallery
(click the pics for bigger photos or to scroll through – Source: FOX/AmericanIdol.com)