American Idol 2014 rush week begins on Tuesday and the first thing we'll likely find out is which guy will be the last contestant chosen for the Top 15 guys: Ben Briley or Neco Starr. Which one will win a spot in the American Idol season 13 Top 30? America's vote will decide, but we want to know who you think will come out on top!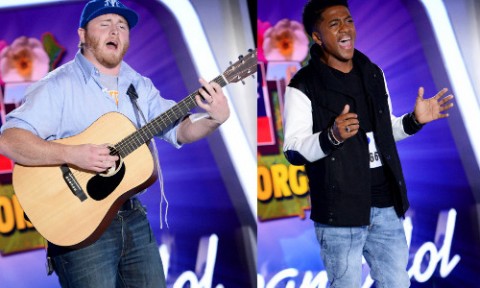 Last week, we left off with these two young men waiting to find out which one of them the voters will choose to move on to the next round. Ben Briley and Neco Starr are very different performers, so it is hard to compare them head to head. Singer/songwriter Ben Briley has a distinctive country flavor, while Neco Starr leans more contemporary pop/R&B.
Both guys have had really nice moments this season, and both have had moments where they haven't been on top of their game. Of the two, we think Ben has been a bit more consistent. Neco has had a little more of a rough time, especially with his voice nearly giving out on him in the final solo round. If we were going to give an edge to one of the guys, we'd have to put Ben ahead of Neco based on their performances so far.
Which guy do you think deserves to move on to the American Idol Top 30 contestants on Tuesday? Cast your vote below!