For season 13, American Idol voting will begin at the start of the performances shows on Wednesday night for the first time. There are more ways than ever to vote for your favorite singer, and now you start casting those votes before the singers even take the stage!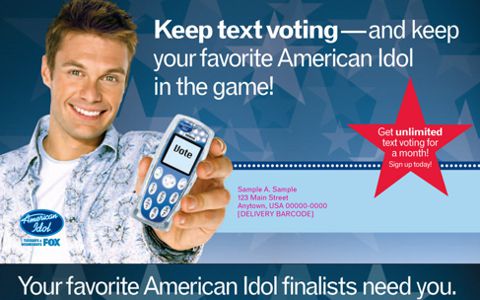 Personally, we prefer to actually wait and see the performances before casting our votes. Some fans, however, aren't going to change their minds about which American Idol voting phone numbers they will be dialing no matter what!
For fans who just can't wait to start getting in those votes, you will now be able to start sending those in at the start of the shows on Wednesday night. Viewers will be able to start voting by Google Search right from the top of the show, and vote by phone, text, the American Idol app, or online as soon as the contestant's voting numbers are revealed, rather than waiting until the end of the show.
There are five ways to cast your votes. Here are the specifics from the FOX American Idol voting press releases:
Next week, Wednesday, Feb. 26 (8:00-10:00 PM ET live /PT tape-delayed) on FOX, the competition continues when the Top 13 finalists perform songs that convey the message, "This is Me." On Thursday, Feb. 27 (8:00-9:00 PM ET live /PT tape-delayed), one finalist's journey will end as America's vote is revealed.

Plus, vocal powerhouse and AMERICAN IDOL Season 12 winner Candice Glover will be back on the IDOL stage to perform a medley of "Cried" and "Same Kinda Man," from her debut album, "Music Speaks"; and critically acclaimed singer Jake Bugg also will perform.

Starting next week, another exciting element begins as viewers at home will have five ways to vote for their favorite singer, including voting via Google Search when the IDOL vote window opens at the top of the show, by searching for IDOL-related terms.

For the first time in television, Google is powering an online voting platform that allows fans to cast votes for their favorite AMERICAN IDOL® XIII finalists directly from Google Search. In addition, Facebook will support visual, on-air voting progress updates based on real-time East Coast voting data during select live shows, giving at-home AMERICAN IDOL® XIII viewers their first-ever look at how their favorite finalists are faring in the voting polls at a given time.

Beginning with the first finalist performance show on Wednesday, Feb. 26 (8:00-10:00 PM ET live/PT tape delayed), fans will be able to vote via Google when the IDOL™ vote window opens at the top of the show – and every live performance show thereafter – by searching for IDOL™-related terms.

Any of these searches will reveal a voting platform where fans can cast their votes for their favorite performers. After casting their votes, fans will have the opportunity to share their votes on Google+, follow contestants, join community conversations or participate in Google Hangouts about the show.

With the addition of Google, AMERICAN IDOL ®XIII now offers viewers an unprecedented five ways to vote: 1) Google Search; 2) online at AmericanIdol.com; 3) AMERICAN IDOL App; 4) text messaging; and 5) toll-free calling. All five methods of voting are managed and certified by Telescope, Inc., an independent vote management company.

On air, AMERICAN IDOL® XIII and Facebook are collaborating to provide a groundbreaking, real-time view of East Coast voting trends and create a two-way connection with fans during the live performance shows.

The innovation will allow at-home viewers to get a first-ever look at an exciting array of voting information, such as demographic voting trends and relative contestant rankings – as it happens live! In addition, as voters and supporters of the AMERICAN IDOL® XIII hopefuls chime in and back their favorite performer, they will have an opportunity to become part of the show – and see their actual Facebook profile picture featured in the telecast.

Viewers can also vote online at AmericanIdol.com; via the AMERICAN IDOL App; via text messaging; and via toll-free calling.