The race is getting tighter for the American Idol 2014 Top 12 finalists! No matter what the Vegas betting odds have to say, it's still a wide open race to determine who will come out on top. In our live recap of the American Idol Top 12 performances tonight, there could always be that one wow moment that could suddenly make a dark horse into a fan favorite!
American Idol judges Harry Connick Jr., Keith Urban, and Jennifer Lopez will all have their say again tonight, but in the end it will be the voters who decide who will make it through to the Top 11. Here are the remaining contestants up for your American Idol voting choices this evening:
Alex Preston, Ben Briley, Caleb Johnson, C.J. Harris, Dexter Roberts, Emily Piriz, Jena Irene Ascuitto, Jessica Meuse, Majesty Rose York, Malaya Watson, MK Nobilette, and Sam Woolf.
And here we go! The theme tonight is "home."
Before the performances begin, we have a recap of Kristin O'Connor's elimination from last week. Then we have a montage of the Top 12's hometowns with voice-overs from the contestants on what their 'home' means to them. Next up we have host Ryan Seacrest, of course, who can barely talk over the screaming crowd as he introduces the Top 12 and the American Idol judges.
The judges give some chatter on how the competition is really on now, and how everyone has to be on, etc. etc. We kind of tune out a bit since it is practically the same every time and we want to hear the performances! Finally, it's time for our first American Idol 2014 finalist to go up, Jena Irene Ascuitto.
Jena Irene Ascuitto sings "Suddenly I See" by KT Tunstall
Jena says she remembers listening to this song on car rides with her family and so it reminds her of home. We are not loving Jena's vocals tonight in our chat room. The song choice isn't strong and why does it sound like the show is having terrible sound tonight?
Vote: 1-855-4-IDOL-08
Alex Preston sings "I Don't Want to Be" by Gavin DeGraw
Once again, we don't think this was the best song choice for Alex, although we admire his taking a risk — as do the American Idol 2014 judges. It wasn't that he wasn't good. Alex is a great singer and artist. However, the song just didn't really do his voice and style justice and it fell flat.
Vote: 1-855-4-IDOL-09
Jessica Meuse sings "White Flag" by Dido
What is with the weird song choices tonight? This song is too slow, too oddball and just does not showcase Jessica's voice. She's pitchy and sharp throughout, which Jennifer Lopez notices. We are a little worried about "Pinky" after this performance.
Vote: 1-855-4-IDOL-10
Dexter Roberts sings "Lucky Man" by Montgomery Gentry
This is the best performance of the night so far. Keith Urban says it is the perfect song for Dexter and we kind of agree, although he may have messed up the end just a little and had to wing it. We think Dexter is probably going to be safe by a long shot this week.
Vote: 1-855-4-IDOL-01
Emily Piriz sings "Let's Get Loud" by Jennifer Lopez
Again, we are hating this song choice. Emily sounds flat and off pitch. We know this girl has serious pipes and this song doesn't show them off at all. We are not loving this at all and J-Lo actually looks like she is cringing a bit when Emily finishes. We think Jennifer is lying when she says she loved it. Harry is much more honest and says the song was a crutch because the song is like a train that she just rode as a passenger. He says the song and the production was too big for her. We agree. Keith says he loved it, which makes us go, what? J-Lo starts flipping her ponytail around and nearly flashing her parts in her short skirt to apparently distract anyone from saying anything else…
Vote: 1-855-4-IDOL-11
Caleb Johnson sings "Working Men" by Rush
After the first few notes all we can say is…. "OH yeah!" This guy just sounds like he's out there giving his own rock concert at some huge venue. It's a totally great song choice and the American Idol judges are rocking right along with him, totally entranced. J-Lo is throwing her hands up in the air and clapping. The other contestants are on their feet. And Caleb THROWS himself on the floor to finish his song. The judges stand up, along with the crowd and it is crazy in there! Harry is actually kind of criticizing Caleb for always being good and too predictably awesome. What? Keith says Caleb is one of the most amazing singers he's heard but he thought it was Caleb with a band, not Caleb standing out as an individual. But Caleb is a rocker, and he is going to be the front of a rock band, so we say bah!
Vote: 1-855-4-IDOL-13
Host Ryan Seacrest interrupts to give us some live voting results, which shows Dexter running in first place, followed by Jessica and then Caleb. We think Caleb should be number one!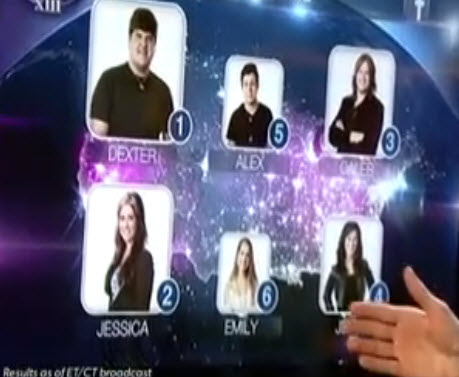 MK Nobilette sings "Drops of Jupiter" by Train
We hate to say it, but it is not the best vocal for MK. She is pitchy and sounds very nervous and the song choice just doesn't come across as great. Also, she REALLY needs to take off the hat. We don't mind if being androgynous is her identity at all, but the hat gets boring over and over and over! Change it up! Also, MK needs to give us a song that really shows off her vocals, because she does have a strong voice, but her song choices have been week. Alas, we fear she may not get another chance as she's very likely to get sent home tomorrow.
Vote: 1-855-4-IDOL-06
CJ Harris sings "Waiting on the World to Change" by John Mayer
We think this was a strong performance but it was a little pitchy in places, as Harry notes. He says CJ is an example of someone singing a bit off pitch, but having enough passion to make it sound good anyway. Keith says CJ needs to be careful not to just do a cover, but needs to put his own twist on his songs too. We have to agree with that. CJ sounds good, but he needs more originality.
Vote: 1-855-4-IDOL-05
Sam Woolf sings "Just One" by Blind Pilot
We feel a bit ambivalent about this song. It is certainly one of the better performances of the night, but it just doesn't grab us and pull us in. Plus, the akward circle of posed adoring tween blond girls kind of freaks us out. They look really uncomfortable and so does Sam. Still, it's a good vocal, if not spectacular, and we think he'll be safe this week with no problem at all. And probably all the way to at least the Top 5 honestly.
Vote: 1-855-4-IDOL-12
Malaya Watson sings "Take Me To The King" by Tamela Mann
The American Idol 2014 judges seem to LOVE this performance, but all of us in chat were like, what? Honestly, it sounded off pitch and like she was screaming half the time to most of us. We like Malaya but we actually thought this was one of her least enjoyable performances. Maybe we're just all wrong though, and the judges are hearing something totally different?
Vote: 1-855-4-IDOL-02
Ben Briley sings "Turning Home" by David Nail 
Ben says he has 120 people in his family and their votes probably kept him in the competition. We think more than just their votes did that because we like Ben. We actually really enjoyed this performance and thought it was very emotive. The judges, however, aren't feeling it all that much and are telling him he needs to put more emotion into his songs! We really don't get what they are hearing tonight versus what we are hearing. But that's nothing new.
Vote: 1-855-4-IDOL-04
Majesty Rose York sings "Fix You" by Coldplay
Majesty says she misses her preschool kids back at home, which just reminds us that she's much older than she looks, especially with the super-cute outfits she wears. We like that she dresses cute and not overly sexy like some girls half her age on stage. Her performance sounds a little nervous at the beginning, and then good, and then suddenly it's like she's screaming off pitch. J-Lo even looks like she's heard something sour a bit. We're surprised. Majesty usually owns her songs much better than this. Harry says he wishes she'd stayed in the quiet zone and J-Lo says sometimes you should stay with the small thing and you don't need to go big. We agree, and also agree we'll see her again next week.
Vote: 1-855-4-IDOL-07
Wow, we feel like they rushed through the critiques kind of fast tonight with shoving in so much of the 'home' theme stuff. Next time, let's hear more critiques and less fluff, okay American Idol?
And that's a wrap! Join us here tomorrow night for our live recap of the voting results!