Former American Idol winner Caleb Johnson paid tribute to America's fallen heroes this past weekend with a special Memorial Day Parade performance in Washington, DC. The rocker gave a moving rendition of his single, "Fighting Gravity," from a parade float decorated with a giant American flag.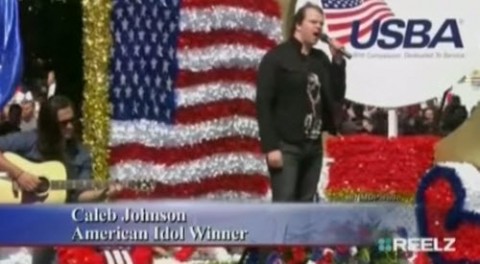 Caleb Johnson recently ditched Interscope Records, claiming they failed to promote and support his debut album, and struck out on his own. While he waits to find a new label "that's actually going to support me," Caleb paid out of his own pocket to produce the official video for "Fighting Gravity."
Before the official performance of the single during the Memorial Day Parade in Washington DC, Caleb had a bit of a practice session in the middle of the street with just a mic and an acoustic guitar player.
Then it was on to the main event, captured from REELZ TV by MJ's Big Blog and posted to YouTube. Caleb rode on a float by the Uniformed Services Benefit Association (USBA)
Honestly, it's a beautiful song and it would nice to see it get the kind of airplay that's been given to previous American Idol winners. Sounds like it belongs on a movie soundtrack, doesn't it?