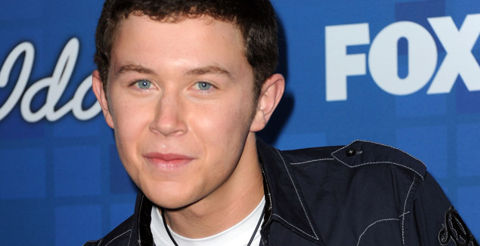 Just last week I reported how American Idol winner Scotty McCreery had gone gold with his "Clear As Day" album after hitting the 500,000 album sales mark. Now he's gone and outdone himself again.
McCreery has now broken through the 600,000 threshold with an estimate 630K total sales and a pace of over 40,000 album sales a week. Wow. Not only is he tearing up the sales charts, he's also dominating the Billboards when it comes to competing with other American Idol alumni.
Idol Chatter gathered the following numbers for the Top 5 Idols in the Billboards:
Scotty McCreery, Clear as Day (42,000 weekly, -52%, 630,000 total) (#11 Billboard 200)
Daughtry, Break the Spell (39,000, -69%, 168,000) (#14 BB200)
Kelly Clarkson, Stronger (22,000, -47%, 336,000) (#35 BB200)
James Durbin, Memories of a Beautiful Disaster (11,000, -61%, 39,000) (#87 BB200)
Lauren Alaina, Wildflower (10,000, -43%, 172,000) (#96 BB200)
It's worth noting that Durbin may be beating Alaina in the weekly sales rate, but his album did just release in the past few weeks while Alaina's has been out longer and could be settling in to its post-release promotion hype rate.
Kudos to all the American Idol performers for their continued success.