American Idol winners were popping up left and right last night to congratulate the show for reaching 500 episodes. All but three former American Idol winners from the past made a brief appearance to express their tanks for the series that launched their careers, including superstar country artist Carrie Underwood.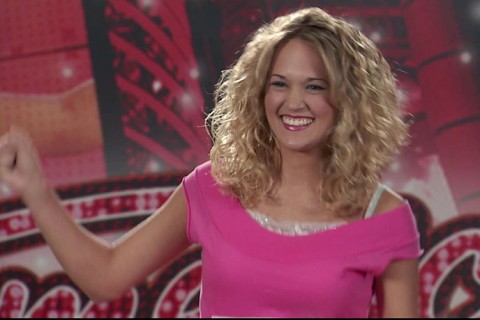 Can you believe it's already been thirteen seasons of American Idol? The show has been on so long now that this year, we actually had the son of a former American Idol finalist audition for the show! (Season one finalist Nikki McKibbin's son Tristan.) We are feeling a little bit choked up looking back at the video below of all those years of Idol.
Nine former American Idol winners in total were represented on the show last night, including: Candice Glover (S12), Phillip Phillips (S11), Scotty McCreery (S10), Lee DeWyze (S9), Kris Allen (S8), David Cook (S7), Jordin Sparks (S6), Carrie Underwood (S4), and Fantasia Barrino (S3).
Country singer Scotty McCreery made a special note of saying we might be seeing him very soon. And, in fact, he is scheduled to perform on the American Idol Top 3 results show tonight.
We are not sure why original American Idol winner Kelly Clarkson did not pop in, but we do know she's had her ups and downs with the American Idol powers-that-be over the years. Plus, she's very pregnant right now and it's been a rough one. So maybe she just wasn't up for it. Ruben Studdard of season two, and Taylor Hicks of season 5 were also mysteriously missing.
click images to see full-size