American Idol 2014 finalist Caleb Johnson may have just thrown a big bucket of cold water on his hot chances of winning season 13. In an interview after the Top 5 elimination results last week, Caleb made a very nasty red carpet faux pas that has already generated a swell of backlash on social media. Did the front-runner to win American Idol season 13 just dash his own chances of winning?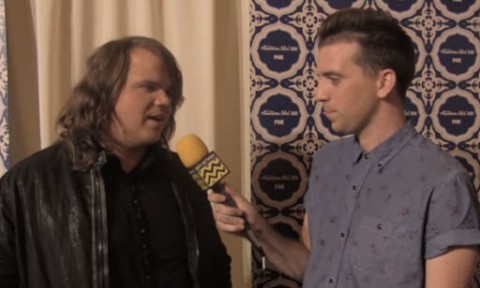 When asked by AfterBuzz TV host Jason Ikeler if his opinion of social media has changed since being on American Idol, Caleb said yes, because it "gives access to a bunch of retards to talk to me." The question, ironically enough, was actually posed to Caleb by one of his fans via social media.
No matter what context you are using the word "retards" in any way, you have to know what kind of outrage that is going to generate. We can't even imagine what Caleb was thinking when he threw that term out there. Well, we guess he was thinking about it just as much as he did when he referred to fans who would enjoy one of his classic rock performances a few weeks ago as "old ladies." Or when he made fun of people with deadly peanut allergies.
Caleb continued by saying that he doesn't "really enjoy having to see somebody tell me what song I need to sing. I think at this point in the competition, I can pick and choose my own songs and represent me the best… I don't need 10,000 people telling me you should sing this, you should sing that, listen to me, listen to me. Fortunately guys, I'm going to listen to myself, whether you like it or not."
Ouch. Dissing the fans who love you, and want to hear you sing songs they think you would rock, is not just harsh, it's just stupid. For any Caleb Johnson fans watching this interview who ever Tweeted him about a song they might like to hear, or participated in the #idolrequest week song selections, it's like being slapped in the face.
Apparently we are included in this group of people that piss off Caleb and just need to deal whether we "like it or not," since we sent in #idolrequests and even wrote a whole special song request post for Caleb.
Oh, and let's not forget it is pretty much a smack to American Idol producers as well, for forcing him to sing 'fan requests' when obviously no one should be choosing what he sings except himself. He has watched American Idol before, right?
Earlier in the interview with AfterBuzz TV, Caleb Johnson also joked that it's only a week until the hometown visits, when he can get "the girls, the hookers, the cocaine." While he may think that is funny in context of his whole 'rock n' roll' image, we don't. It just perpetuates a stereotype in the music industry we needed to be rid of decades ago.
After a firestorm of negative comments about his "retards" remark and dissing of fans, Caleb took to Facebook to issue an apology. Sort of.
"For the record that juvenile comment I made in the interview was not directed towards my fans but to the wackos that send hundreds of hate messages a day to me. You guys are amazing and I cannot thank you enough for your support. Sorry if it offended anybody it was the wrong choice of words. Also I greatly appreciate it when you guys give me song suggestions but it gets really overwhelming at the volume it comes in so please understand ! Rock on!"
Honestly, we think Caleb's apology was too little, too late, and didn't really even sound that sincere. We don't know how much this interview will hurt Caleb in the votes, especially since a lot of fans will probably never see it or even hear about it. Sometimes, however, it only takes that one little thing to drop you from being the next American Idol winner to just the also-ran runner-up.