American Idol season 13 finalist Caleb Johnson has issued another apology for calling his critics "retards" in a video interview last week. In the apology, this time on video rather than via Facebook, Caleb said his remark was not directed at his fans and he knows comment was wrong.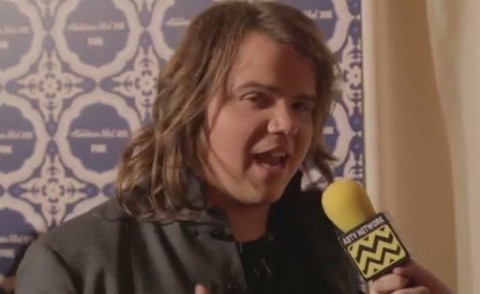 American Idol finalist Caleb Johnson was dragged over the coals by outraged fans of the show after an interview with AfterBuzz TV last week. While speaking to host Jason Ikeler, Caleb stated that social media "gives access to a bunch of retards to talk to me."
Caleb then went on to complain that he doesn't "really enjoy having to see somebody tell me what song I need to sing… I don't need 10,000 people telling me you should sing this, you should sing that, listen to me, listen to me. Fortunately guys, I'm going to listen to myself, whether you like it or not."
The "retards" remark and the apparent diss against fans who sent in requests asking Caleb to sing their favorite songs got lumped together widely in the press. This lead to headlines and social media tags screaming that Caleb had called his fans "retards" — which wasn't actually the case.
Even those who understood Caleb directed the remark at his critics and haters, and not his fans, were still very offended by his use of the word "retards," which is considered by many to be as nasty as the N-word.
In a follow-up interview with AfterBuzz TV after his Top 4 performance, Caleb tried to clear the air about what he said last week and issued another apology for his comments.
"This whole experience has been so humbling… I'm grateful as a person. I wouldn't be here for the love and support for my fans," Caleb said. "So that whole interview was not in any way, shape or form directed toward the people who love and support me. The unfortunate thing about that was that I used a very inapporpiate comment that hurt and offended a lot of people. So I really just want to say, guys, I'm truly and deeply sorry that I said that comment… I did not want to hurt or offend anybody."
"From that experience… I learned a really powerful lesson from that," Caleb said. "You just gotta live and move on and learn from your mistakes. It was a pretty intense thing."