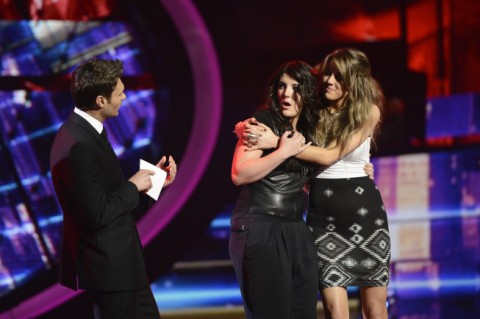 Last night on American Idol 2013, Angie Miller was surprisingly eliminated, coming in third place for Season 12. Her elimination was quite a shocker for many, but she isn't the first one to drop jaws with their arguably untimely departures. Let's take a look at the Top 5, which now officially includes Angie.
(Oh, and we're not getting into people who lost at the finale. That's a whole other ballgame)
American Idol's Top 5 Most Shocking Eliminations
1. Chris Daughtry, Season 5. Chris was a fan-favorite, but when home in fourth place behind Elliot Yamin, Katherine McPhee and Taylor Hicks. His elimination was so shocking that it has been referred to nearly every time someone after has been surprisingly sent home. Chris' popularity continued despite his elimination as he's been way more successful than the Top 3 from that season combined.
2. Melinda Doolittle, Season 6. Having never been in the bottom prior to her elimination during her season, and receiving ONLY positive feedback from the judges (including Simon Cowell), Melinda's 3rd-place finish shocked many. Jordin Sparks and Blake Lewis went on to compete in the finale, with Jordin taking the title. But many felt Melinda was the one who was going to go all the way that season.
3. Angie Miller, Season 12. Angie was the front-runner all season. Also, never being in the bottom prior to her elimination, Angie never received negative feedback, had the most social media following and continued to top polls as a fan-favorite up until the end. A whole lot of people, myself included, were convinced she'd not only make it to the finale, but win the season.
4. Tamyra Gray, Season 1. Many people were predicting a Kelly Clarkson/Tamyra Gray finale as they seemed neck-in-neck most of the season. But Tamyra somehow went out in 4th place, being beaten in votes by Nikki McKibbin who had been in the bottom every week before but one.
5. Pia Toscano, Season 10. Finishing ninth, Pia is the most shocking early elimination. She was early favored to win the show and was even ranking high in Vegas odds. But everyone was shocked when she was voted out in ninth place. Making matters worse, the judges had already used the save on Casey Abrams. Fans' uproar (including Tom Hanks, Ashton Kutcher and Ellen DeGeneres!) over Pia's elimination were so intense we almost thought they might bring her back.
Other shocking eliminations: Carly Smithson, Season 7 (6th place); Colton Dixon, Season 11 (7th place); Jennifer Hudson, Season 3 (7th place); Jessica Sanchez, Season 11 (7th place but Saved by the judges).
As you can see in the videos, the big difference between Angie's elimination and most of the others from the list above is the reaction. People are shocked that Angie is eliminated, but they know the final two are worthy of being in the finale. Many of the others on this list include people screaming and booing and protesting.
Whose eliminations did you find shocking or untimely?