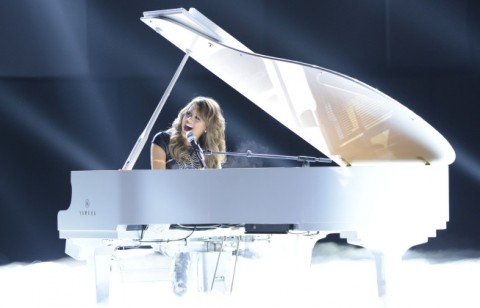 This week on American Idol 2013, Angie Miller gave two more Top 3-worthy performances and the one that really had people on their feet was her version of "Love Came Down" by Kari Jobe.
The performance also found her back at her piano where she belongs. Everyone seems to prefer Angie behind the piano. Not that not being behind the piano has  hurt her in in the past few weeks. But with Kree and Candice on her heels, she's got to really play hard.
"Love Came Down" isn't a song many people know of, but that might have actually played in her favor. People loved it during Hollywood Week when she performed her own song, so to a lot of people this probably just sounded like another one of Angie's own. And that is what it sounded like. It's very similar to the style she's shown us. Oh, and the more I see and hear her, the more I think  she's the female version of Colton Dixon.
Check out the performance below and let us know what you think.
Does Angie Miller have what it takes to be the next American Idol?
Update: Here is Angie's performance video for "Anyone Who Had A Heart".