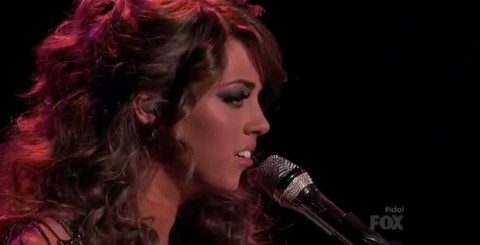 Last night on American Idol 2013, Angie Miller and the other four girls in the Top 5 wowed the judges and fans once again with their performances.
The girls took on two themes — Divas and songs from the year they were born. Angie solidified her spot in the Top 3 with her Diva number, but don't forget about her version of "I'll Stand By You" by The Pretenders.
It was a great performance for her because she was back at her piano, and like some of the judges say, that's where she really shines. This song has been done a number of times and has even been covered on an album by Idol winner Carrie Underwood. So there's a lot to be compared to with this song. Angie held her own.
Have a listen to Angie's version of "I'll Stand By You" and let us know what you think.
Do you think Angie has what it takes to become the next American Idol?