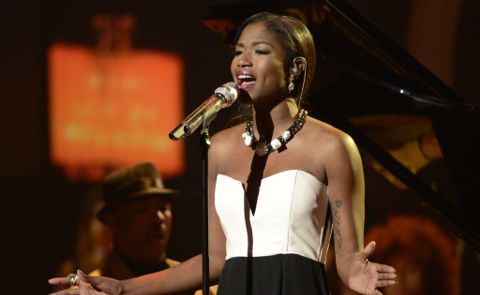 Amber Holcomb came out swinging on American Idol 2013 last night. She's fighting for her life in the competition and after multiple trips to the bottom rings it seems she may be in danger.
Amber had two chances to impress the judges and the crowds this week for her Top 5 round. The first performance "Without You" earned her a B+ from Branden and even less from the judges.
Nicki Minaj plainly told her, "I didn't like it, babe." Randy was a little gentler. "It wasn't perfect, but," he went on to explain how hard it'd be to perform a Mariah Carey song in front of Mariah Carey. Perhaps the finalists shouldn't sing the judges songs!
Amber Holcomb performs "Without You"
Round 2 was much kinder for Amber as Nicki said, "it was simply perfection." Hard to get much better than that. Nicki echoed Jimmy's sentiments saying she wasn't getting the respect she was due. Randy called her song choice the most difficult performance of all season. Mariah even said Amber had the potential of a "massive star."
Amber Holcomb performs "What Are You Doing The Rest Of Your Life"
What did you think of Amber's performances last night on American Idol?