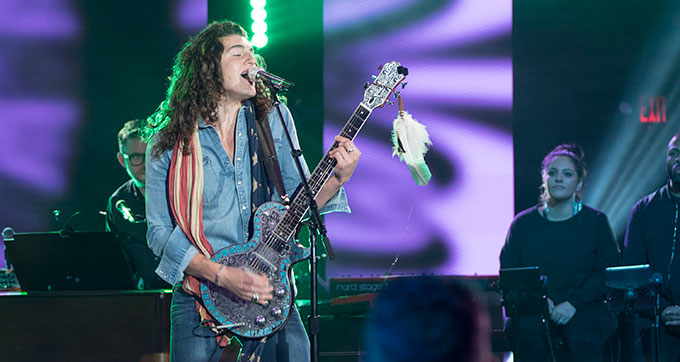 American Idol 2018 hopeful Cade Foehner might official by the season's rocker. During Sunday night's Top 24 solo performances he slayed "All Along the Watchtower" by Jimi Hendrix.
Not only did the show producers choose Cade's performance to close out the night, the judges loved it. Katy Perry was really into it the way only Katy knows how. "Whether you are number one or whether America chooses you, you are a star and do not forget that," Katy says before she passes out from the excitement he just gave her with that performance.
Lionel Richie reminds us that he was there when Jimi delivered that song and says Katy was right. "You bringing it all, my friend," Lionel says. "What's that word? Sexy. Continue on. No matter what happens on this competition, you've got it."
In case you didn't catch Cade's semi-finals performance on American Idol Sunday night, check it out below. If you did see it, what did you think? Do you think Cade has what it takes to be the next American Idol?
Cade Foehner performs 'All Along the Watchtower' on American Idol 2018
If you are a Cade Foehner fan and don't want to wait until Monday night to find out of he officially makes it into the American Idol Season 16 Top 14, be sure to check out our American Idol 2018 Top 14 spoilers.
Be sure to join us Monday night for the celebrity duet performances and all the American Idol results for Group 1. Find out which seven contestants move on to the live rounds and which five semifinalists go home.