American Idol 2014 finalist Caleb Johnson may be the 'Rock Viking' according to judge Keith Urban, but last night he felt more like an alien. Being in the American Idol finale was a truly out of this world experience for the young rocker who is just one vote away from being the season 13 winner.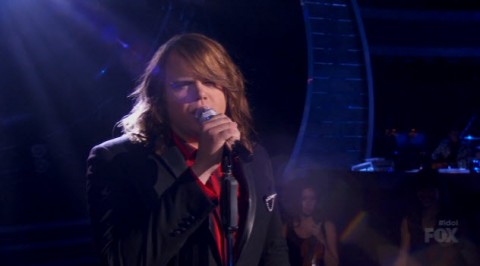 Speaking to FOX Audio Central after the Top 2 performances show, Caleb Johnson says being in the American Idol 2014 finale was "just like you're on planet Mars, like it's just a different world. I mean you know all these people out in the audience and it's like lights, the music, it's powerful."
Does Caleb feel like he did enough in his final performances for the voters to be the next American Idol winner? Well, just like his final rival in the competition, Jena Irene, he says it doesn't really matter who wins.
"I felt great up there singing. It was a lot of stuff going on but you know I just – I had a blast I'm fine either way you know," Caleb says. "Me and Jena talked about it, we're both winners regardless because of all the experience that you know meeting each other like becoming great friends and all the amazing stuff has been incredible."
* Interview courtesy of FOX Audio Central