Jena Irene Ascuitto says she did all she could in the American Idol 2014 finale performances on Tuesday night. Even if it wasn't enough to win American Idol season 13, she is still thrilled at how amazing the whole experience has been.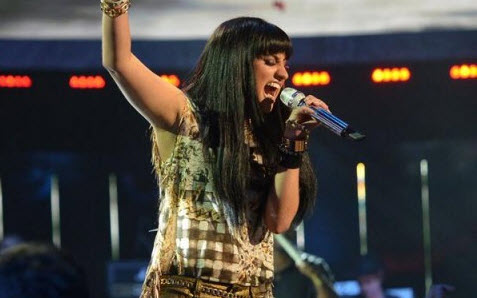 In an interview with FOX Audio Central after the American Idol Top 2 performances show, Jena Irene talked about the thrill and nerves of being in the finale, and how much the competition has boosted her confidence.
"I think just to perform in front of an audience of that many people was amazing," Jena says. "It was so different than what we're used to each week so I was definitely a little bit nervous but I was excited more than anything so my adrenaline was just going the whole time. I can't believe it's over with already."
While Jena received overwhelmingly positive critiques from the American Idol judges, they did note that her nerves showed a little bit during her final performances for the voters. Even so, Jena feels that she gave it everything she had and there is no way to predict who will win American Idol 2014 tonight.
"Based on my performance I did all that I could," Jena says. "Based on Caleb's, he did all that he could. Literally I have no idea what's going to happen tomorrow and I'm happy no matter what happens."
No matter what happens, Jena Irene has grown so much from being on American Idol season 13 and she is very grateful for her time on the show.
"I've evolved in a way where my confidence level has definitely boosted and I can be myself and I'm comfortable with being myself around 7,000 people and give a good performance," Jena says, "but I've always just stayed true to who I am as an artist and you know I do have a different voice and I think that's kind of what got me this far. So I'm really excited that America took positive to it."
* Interview courtesy of FOX Audio Central