We're about to find out who who American Idol tonight when the Top 2 finalists take the stage with Ryan Seacrest for one last results show episode on FOX this season. While we wait let's take a look at who you, the readers here, are voting in our "who was the best" weekly poll as a possible prediction of tonight's results.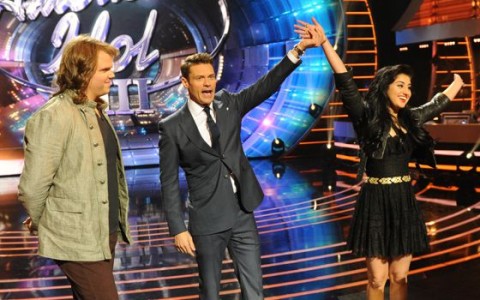 * UPDATE: Find out who won American Idol 2014 in our recap of the final results show!
Heading in to last night's competition our latest American Idol 2014 poll put Caleb Johnson leading over Jena Irene by five percentage points, but now the readers' tide has shifted.
From last night's Top 2 performance poll there are already over 8,000 votes and Jena Irene has turned the tables on Caleb Johnson, leading him by four points. Wow!
Of course neither of these polls are official or guaranteed, but it's a very interesting perspective on how the overall American Idol audience could be feeling after last night's show.
Ranking out all of their performances, we had to give a one-round lead to Jena over Caleb and our overall prediction is coming in with the same expectation. With all that in mind I think we may very well see the first time a female American Idol Hopeful beats out a male contestant since Jordin Sparks and Blake Lewis all the way back in 2007 for Season 6!
This is such a close race and a really great competition between the two finalists that anything could happen and most fans would be happy either way. Both Caleb and Jena have delivered for American Idol 2014 and we're excited to see how the official results turn out.
What do you think is going to happen? Will Caleb, the season long front runner, hold on to the win or will Jena Irene, the season's wild card surprise, snatch victory at the last moment? Share your thoughts!