Caleb Johnson may have sang "Dazed and Confused" by Led Zeppelin on American Idol tonight, but he is anything but either when it comes to owning the stage. We would be shocked if Caleb did not make the American Idol season 13 finale next week, but that was no reason to slack off tonight. Every song counts and every vote matters until the American Idol winner is announced.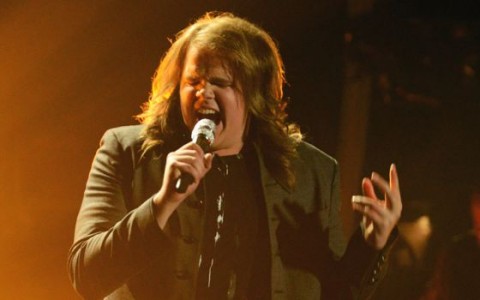 Caleb's hometown of Asheville, NC picked out this song for him to sing this week. We think his fans back home did a good job in choosing a song that was smack dab in the middle of Caleb's hard rock comfort zone.
While we like Caleb to step out of the box and prove he's more than just a rock fiend, it doesn't hurt to remind everyone why he made it to the final three. Everyone loves Caleb when he rocks it hard, and this was just the song to show it. Even with his injured voice tonight, he KILLED it so hard, even Jennifer Lopez could barely restrain herself from swooning.
Don't forget to get your votes in tonight for Caleb if he is your favorite to win season 13!
Vote for Caleb Johnson:
Text 13 to 83676
Call 1-855-4-IDOL-13 (1-855-443-6513)
SuperVote online at AmericanIdol.com or via app
>> Watch all of the American Idol Top 3 performances in our recap from tonight's show!