In our American Idol 2014 recap tonight, the Top 3 finalists will have to give it everything they have in hope of making it to the finale next week. Caleb Johnson, Alex Preston, and Jena Irene Ascuitto have three songs tonight to prove they deserve to be in the American Idol season 13 finale. Everyone one of them has to count. This is the last American Idol performances show before the Top 2, and no one — and we mean NO ONE — is safe.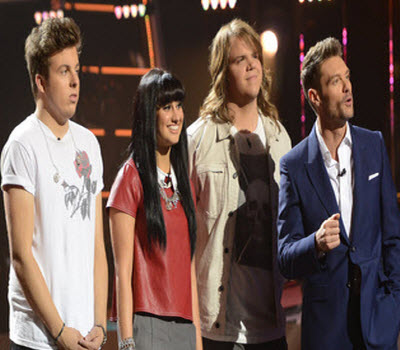 While it may seem like front-runners Caleb Johnson and Jena Irene Ascuitto have it in the bag, we know better. There have been plenty of times before in American Idol results show history when there has been a shocking elimination from the Top 3. Even just last year, many fans were astounded when former favorite Angie Miller was voted off  and did not make the American Idol finale.
Just because the American Idol betting odds and the fan polls had Alex Preston languishing in third place behind Caleb and Jena last week, does not automatically mean he'll be going home this week. If he manages to drag enough of previously eliminated contestants Sam Woolf and Jessica Meuse's fans behind him, he might just pull a surprise on everyone by bumping Caleb Johnson or Jena Irene from the final two. We don't think it is likely, but we've seen weirder things on American Idol.
So whether you are the current favorite to win, like Jena Irene, or the underdog no one thinks can make the finale, like Alex Preston, you just have to give it everything you've got tonight regardless. We hope there will be some seriously fabulous American Idol 2014 performances this evening to show us who truly deserves to be in that finale next week.
Join us for our live American Idol recap of the Top 3 performances show right here below at 8PM ET and watch with us!
>> Click to join our American Idol Live Chat! (pop-up window) <<
And here we go! It's hometown week on American Idol, so you can expect a whole lot of footage of the Top 3 enjoying the spoils of going home a hero to parades and mass concerts.
Along with the usual introductions and chatter from host Ryan Seacrest and the American Idol judges, we have bad news to report for Caleb Johnson fans!
It looks like the rocker is going to have serious problems this week because he had a vocal chord hemorrhage from singing too hard! Plus he's had bronchitis and sinusitis as well. Ouch! They actually have a doctor come out to explain just so no one thinks he's faking it or something. No talking for Caleb tonight, only singing!
For the performances tonight we'll have one song chosen by the American Idol judges, one by Randy Jackson, and one picked by the contestant's home town. Before all of that, however, we have a weird guest performance from The Chainsmokers doing "Selfie" with — you guessed it — more selfie crap going on. We are so over this craze.
American Idol 2014 Performances: Randy Jackson's Picks
Caleb Johnson: "Never Tear Us Apart" by INXS
Judges: Keith Urban says Caleb has a bluesy soul thing in his voice, a fusion of soul, rock, and gossip. It was a great job tonight. He could hear the voice problem in certain spots, but he worked right through it. Great call by Randy on that song, a great song for Caleb.
Jennifer Lopez says she knows that Caleb wanted to do way more with the song but just couldn't. Even so, it was still a great performance and on his worst night is better than most. Stellar performance.
Harry Connick Jr. thinks this song forces Caleb to work within confines. An interesting choice for him. He cautions Caleb not to hurt himself tonight. Nice job.
Vote for Caleb Johnson:
Text 13 to 83676
Call 1-855-4-IDOL-13 (1-855-443-6513)
SuperVote online at AmericanIdol.com or via app
Alex Preston: "Pompeii" by Bastille
Judges: Jennifer Lopez, who is looking very SHINY tonight, says she sees him and she sees what he is doing. They have been telling him to be different and to create moments and when he picked up the drumsticks and went to town, he had her. It was a different Alex, congratulations.
Harry Connick Jr. says that song gave Alex everything he needed at this point in the competition. A young, hip song that showcased a bit of everything. However, he could see the wheels turning, which is not something he wanted to see. He would have liked more joy and less piecemeal.
Keith says when Alex is playing and singing and not paying attention too much, that is when he is in the zone. Great performance.
Vote for Alex Preston:
Text 9 to 83676
Call 1-855-4-IDOL-09 (1-855-443-6509)
SuperVote online at AmericanIdol.com or via app
Jena Irene: "Titanium" by David Guetta featuring Sia
Judges: Harry says it was another great song choice by Randy. With the high notes in this song that everyone wants to hear it was a high risk choice but it was like nothing for her. The song was strong and she killed all the important notes, which is tough to do with a song that usually lives in the studio. Great job.
Keith loves the way Jena performs with balance of being a stellar singer and having fun. She inspired because she knows how to mix the fun with the conviction. Really good job.
Jennifer is not as loving this week as last week. She says Jena hit all the high notes and that's what people were listening for. In the beginning though she was a little shaky. And she never felt Jena loosen up the way she usually does. It was a little stiff, maybe because of those high notes. But she's not worried about Jena, she's going to kill the song the judges picked for her.
Vote for Jena Irene:
Text 8 to 83676
Call 1-855-4-IDOL-08 (1-855-443-6508)
SuperVote online at AmericanIdol.com or via app
American Idol 2014 Performances: Judges' Picks
Caleb Johnson: "Demons" by Imagine Dragons
Judges: Keith says he is so feeling for Caleb tonight with his voice issues. But if you closed your eyes, you really wouldn't even know it. Keith says he has had vocal surgery and he knows what it is like to be fragile. He knows what it is like to feel vulnerable and how it effects your confidence. But he killed it anyway.
Jennifer also says she knows what it is like to worry about your voice and if it will recover. But when you can't sing it at your best, you have to rely on other things. At first he was thinking too much but by the end he connected with the emotion and it was much better. He needs to think about singing with his soul.
Harry says that instead of a critique, he wants to know what Caleb would want to do with his album. Forgetting, apparently, that Caleb is supposed to speak as little as possible. Caleb says he wants to make a powerful, soulful, rock n' roll record. Heavily influenced by the classics, but all original.
Alex Preston: "Stay" by Rihanna featuring Mikky Ekko
Judges: Standing ovation from JLo and Keith. Jennifer says she knew Alex would sing the heck out of that song. OMG, it was beautiful and it was all yours. You forgot about Rihanna, you forgot about Mikky Ekko, it was all his. Nice job.
Harry says it was beautiful and really strong. He could go on and on about everything he loved about it. But he wants to know what it would be like for Alex in concert. Would he go from song to song to song, would he talk to the audience, what? Alex talks about doing six minute jams with the band when he went back home. His concerts would be fun.
Keith says it is great how Alex takes artistic choices to own a song. He just owned that song beginning to end. The arrangement was killer and so were Alex's stylistic choices that really made the audience respond. He loved it, he says, in between sniffing his mic cover and saying it is "weird."
Jena Irene: "Heart Attack" by Demi Lovato
Judges: Harry says he is going to keep the critique short because he wants to ask her a question. He loves that even in songs where there is not a lot of room to be original, she still always finds a way to do that. From the first note, however, she needs to have the same energy as she has in the end. If there were no cameras around and she was just on tour, what would she be like on stage in concert. She says she would have a lot of room for instrumental breaks so she could just "rage with the crowd" and be all over the place.
Keith says it was great and she is always bullet with her pitch, her phrasing and her range, he doesn't know where it ends, it's crazy.  The notes just keep coming babe. It was really good. He loves it when she is with the band on stage. From Infinity Hour (her old band) all the way to here on Idol, excellent.
Jennifer says that was what she was talking about from her last performance to this one. She felt very loose, very in control, there were no nerves, she was just free. And it was perfect. That was a great song for her. It was awesome. Great job. That's her Jena.
American Idol 2014 Performances: Hometown Picks
Caleb Johnson: "Dazed and Confused" by Let Zeppelin
Judges: JLo and Keith are out of their seats halfway through the song. JLo looks like she is getting hot under the collar and wiggling very sexy time. Harry, of course, stays seated and looks very serious like he is evaluating everything minute detail. We can't believe Caleb smashed his mic stand all over the floor like a mad man. The judges can't even talk, the audience just keeps screaming.
Keith says if ever there was a complete moment of miraculous healing, that would have been it. He wants to throw stuff too. Insane, just insane. Awesome.
Jennifer says she is not a thrower but if she was, she would want to throw stuff. That was a true Idol moment. That was bananas. Ridiculous. Great.
Harry thinks it was awesome, it was great. This show is all about opportunity, and singers taking advantage of opportunities. He loves watching Caleb take full advantage. It was absolutely fantastic.
Alex Preston: "Story of My Life" by One Direction
Judges: Jennifer says this is so hard. America really has their work cut out for them because she sees three people who really want in this finale so badly. All of you are amazing and they have a tough choice. JLo is actually getting a little weepy.
Harry says Alex's hometown really cares for him because this song really strikes a chord with people. He doesn't know anyone who doesn't love that song. It was another classic Alex moment. It was very strong.
Keith says for him personally that it was very hard for Alex to do this after his version of "Stay" because it was so good. That was coming down a bit from that, but since he nailed that one tonight, his averages are really good.
Jena Irene: "Creep" by Radiohead
Judges: Harry says there are so many different ways that Jena takes the stage. Something happens though when Jena sits behind the piano. He thinks it was even better than the last time he sang it. It is a great way to end the show and the message it sends to Harry, for the voters at home, he really doesn't envy them. They've seen some amazing things tonight.
Keith says the only thing that he disagreed with is when at the end Jena sang that she doesn't belong here. She SO belongs here. Her progress from her audition to here has been mind-blowing. Everything about her has grown in leaps and bounds. That's what American Idol is about.
Jennifer says it was brilliant. Jena is such a baby but it is so easy for her. She just thinks Jena is going to be so hard to beat.