Tonight on the American Idol Top 3 performances we learned as the show got started that finalist Caleb Johnson was struggling with a vocal cord injury, but did would it impact his performance?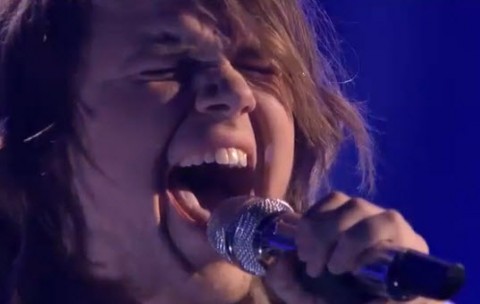 As American Idol began host Ryan Seacrest brought out the Top 3 including Alex Preston, Caleb Johnson, and Jena Irene. Ryan announced that Caleb was having a health issue and brought out the house doctor to explain.
The American Idol doctor told the audience that Caleb was suffering from bronchitis, sinusitis, and perhaps most importantly he had a vocal chord hemorrhage. This vocal cord injury was like a bruise in there and as the doctor explained it, would be like a runner competing with a bruised ankle. The doctor advised Caleb to refrain from speaking to save his voice, but was confident Caleb would be okay to perform.
What do you think? How did Caleb do tonight? Did he rock out like we've come to expect or was his vocal cords hurt enough to hold him back? Share your thoughts!
Here's the intro clip from tonight's American Idol 2014 episode featuring the doctor explaining Caleb's health situation: