At the beginning of the American Idol performances show last week for the Top 3, we found out that Caleb Johnson was dealing with not just lingering illness, but an actual vocal chord injury. Battling bronchitis, sinusitis, and a vocal chord hemorrhage, Caleb still performed admirably but it was obvious he was not at his best.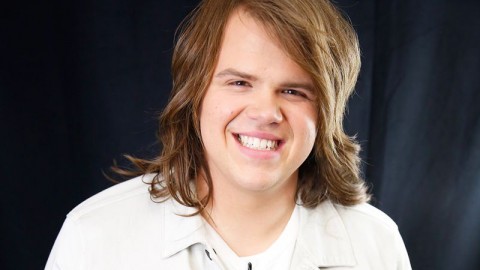 * UPDATE: Watch all of the Top 2 performances in our American Idol recap!

When he recorded his hopeful future 'coronation' song that he'll be performing on American Idol tonight, Caleb said he was having serious issues. "My voice went out, so I recorded that song with my voice blow out," Caleb said, according to The Hollywood Reporter. "So it was a really stressful week, but we got it done."
Despite his "blown" voice, Caleb went on to do very well on American Idol last week, even though the strain on his vocal chords could clearly be heard during his performances. During his last song, however, Caleb pushed past the pain and the tightness of his injured vocal chord and still had one of his best performances all season.
Caleb is looking forward to being able to do the same tonight on American Idol, despite his voice still not being at its best. "It's not back 100 percent," Caleb said. However, the rocker believes that it is "slowly getting better" and he hopes it will "be there" for him tonight. If not, he said, there is always a way to overcome, especially since "the doctor has some great drugs."