American Idol Top 2 finalists Jena Irene and Caleb Johnson are such good friends, they swear it doesn't even matter who wins American idol 2014. For them, it's all about the amazing experiences they've had on American Idol season 13, no matter who comes out on top Wednesday night.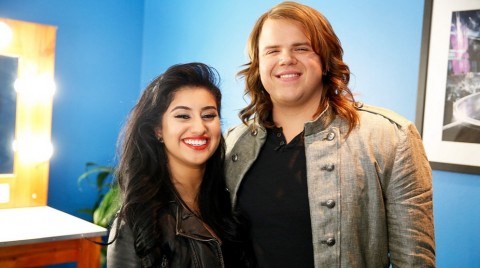 * UPDATE: Watch all of the Top 2 performances in our American Idol recap!
In a press conference on Monday night outside of the Nokia Theatre in Los Angeles, Caleb Johnson told reporters that he and Jena "really don't care who wins" American Idol this week. Seated beside his friend and rival Jena, 23-year-old Caleb said being the American Idol winner for 2014 is "just a title." For them, it's all about giving it everything they can to close out the season with a bang.
"We want to give the best possible performances both nights and make it a memorable season," Caleb said, according to The Hollywood Reporter. "We've all won. Not just us, but everybody who's been on the show this season, with the experiences we've had and the knowledge we've gained about the industry and the friends that we've made."
Jena Irene, just 17-years-old and with a long career hopefully ahead of her, agreed with Caleb. "No matter what place we get, whether it's first or second, I want to go out on a good note," Jena said. "I don't want to have a bad performance or have something I wish I would have done differently."