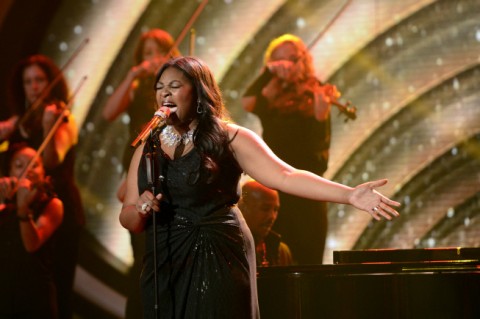 Last night on American Idol 2013, we saw the Top 3 head home for their homecoming celebrations and take the stage to sing for a shot in next week's finale.
Jimmy Iovine and much of America decided that Candice Glover won the night and I have to say that I agree. Her three performances were all pretty solid, but it was her final song of the night from "Westside Story"  that had people really jumping on Team Candice. Let's take another look at her performances from last night.
Candice Glover sings "One"
Jimmy Iovine's pick was U2's "One" in the style of Mary J. Blige. The first time I heard this tonight I was kind of not into it. But as I listen again right now, I like it much better.
Candice Glover performs 'Next To Me'
The judges picked this song for Candice and I had never heard the song, but I loved Candice's version of it regardless.
Candice Glover sings "Somewhere"
At first I thought this was a weird and iffy song choice for Candice by the American Idol producers, but then she nailed the performance. It was powerful, it was emotional. It was easily the best performance of the night.
Were these performances enough to send Candice onto the finale next week? We'll find out tonight on the American Idol 2013 Top 3 results show.