Carrie Underwood visited The Tonight Show with Jimmy Fallon this week to talk with him about her time on American Idol, her new Greatest Hits album, and even delivering a great performance of "Something In The Water."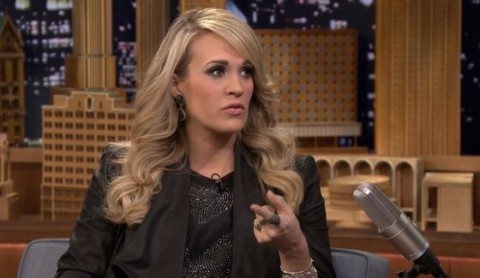 Speaking with Jimmy, Carrie Underwood reflects on her journey from American Idol all those years ago. Carrie says she kept a detailed journal for the very first time when she auditioned for the show in St. Louis. Jimmy jokes that we should look out for a tell-all book for the Grammy winner.
Carrie also gave a performance of "Something in the Water," a song which has earned her a 2014 Grammy nomination for Best Country Solo Performance. Nice! Check out the video below of her singing on The Tonight Show and we'll see if she's inspired anyone on the upcoming American Idol 2015 season!
click images to see full-size views
Carrie Underwood performs 'Something in the Water' on the Tonight Show:
Carrie Underwood talks American Idol & new album:
Image source: NBC
Video source: NBC