When American Idol 2015 premieres next month not only will there be a new in-house mentor with the arrival of Scott Borchetta, but there's a whole new round being introduced with "Showcase" Week in Hollywood.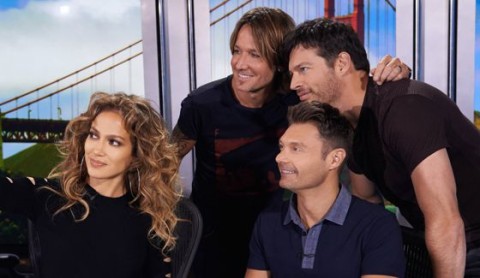 According to the great sleuth work over at MJs Big Blog, the American Idol Top 48 Hopefuls traveled to Los Angeles last week and performed in a new feature called "The Showcase." This crucial round of eliminations, held at LA's House of Blues, would cut the singers down to the season's Top 24 with a new approach.
Singers who won a Golden Ticket during the American Idol auditions and survived further cuts down to the Season 14's Top 48, a bump up from the anticipated Top 40, were flown back to Los Angeles for more filming and performances.
Check our list of Hollywood Week Idol spoilers for 2015 for the latest on those cuts.
Each of the Top 48 Hopefuls picked three songs which was then downselected by producers to one final performance before what might be the the season's Top 24 semi-finalists stage. Adding to the seriousness of the round the Idol band featuring Rickey Minor was brought in to perform along with the Hopefuls.
Get ready for when American Idol 2015 starts because we'll be back with another full-force season of coverage and we can't wait to see where Season 14 takes us next! Join us on Facebook, Twitter, and by Email Updates to get the latest results and spoilers sent right to you every day. We're excited to have you join us again this year!
click images to see full-size views