Former American Idol runner-up Clay Aiken claims he now leads the Democratic race for the North Carolina Second District congressional seat. Clay is currently running against several other Democratic candidates for the race, including former NC Commerce Secretary Keith Crisco.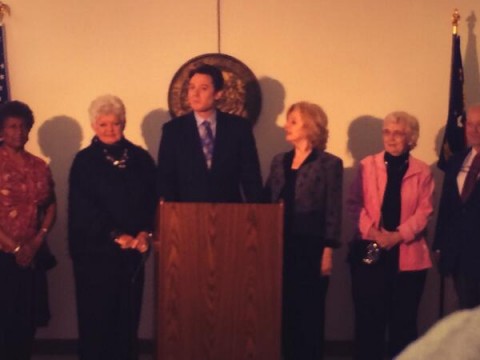 Clay Aiken reportedly raised $233,000 in the first quarter of 2014 in his effort to win the Second District congressional seat for North Carolina. The former reality TV star reported that he still had $125,000 left to spend at the end of March. However, $23,000 of the funds raised so far were from a personal loan by Clay to the campaign.
Although he is considered an extreme long shot to beat out incumbent Republican Rep. Renee Elmmers, Clay is excited about how much support his campaign has received. The former American Idol star also claims that he is now the leader in early polls for the Democratic primary coming up on May 6.
"We've done an initial primary poll and it showed us with a pretty substantial, healthy lead over both the second- and third-place opponents," Aiken said, according to Roll Call. "We haven't done one since that, but I think the margin there was somewhere between 20 and 30 percent."
Even if Clay Aiken does manage to win the Democratic primary, his chances in the general election to take the congressional seat are slim to none. Right now the GOP is standing pretty confident that Rep. Renee Ellmers will be re-elected in a strong majority vote no matter who runs against her.