The clock is rapidly counting down to find out who will win American Idol 2014. Which of the Top 7 finalists has what it takes to be the next American idol winner? We take a look at the current odds and results of our readers polls to predict who has the best chance to win!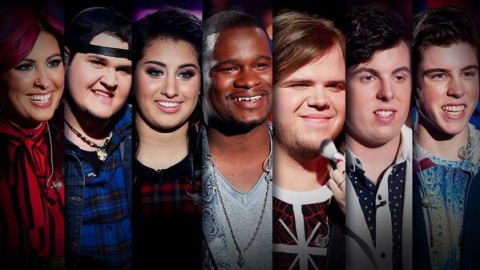 For weeks now, Caleb Johnson has been the leader of the pack when it comes to predicting who will be the next singer who won American Idol 2014. Alex did manage to claim the top spot in the American Idol Las Vegas betting odds after his stellar Top 10 performance of "Story of My Life" by One Direction. The next week, however, Caleb was back on top once again and Alex was sliding back to the middle of the pack.
This week, something new and very intriguing seems to be breaking up the monotony of Caleb's reign at the top of both the American Idol betting odds and our fan polls. While our readers still place Caleb as the favorite finalist from last week, former favorite Sam Woolf just suddenly rose back up to challenge him in second place. However, Sam did not rise much in the Vegas odds, so we are still going to rank him pretty low as a possible winner at this point.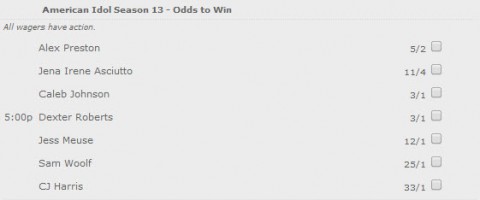 Jena Irene Ascuitto, on the other hand, not only did decently in our reader's favorite poll this past week, but she shot way up in the American Idol betting odds. Bovada Sports Book actually now shows her as the current favorite to win American Idol season 13. Looks like at least one of the girls is finally getting some traction this season!
We have to note that the latest betting odds also show Dexter Roberts tied with Caleb Johnson as one of the favored competitors. We find that a bit surprising but it could be that as more people are eliminated, more votes are shifting his way. Still, it just seems a bit off that Caleb, Alex, and Dexter are so clumped together in the odds, and so far apart in our reader's favorite polls — which has Dexter nearly tied with CJ Harris in last place.
So with everything tallied up, what is our prediction for who wins American Idol 2014 from the Top 7? Well, we'll have to actually call this one as a virtual tie between Caleb Johnson and Jene Irene this week. With our reader's polls telling us one thing, and the betting odds telling us another, we just think it's too close to call. A lot will depend on how the performances are from here on out, but we could easily see Jena and Caleb battling it out in the final two.