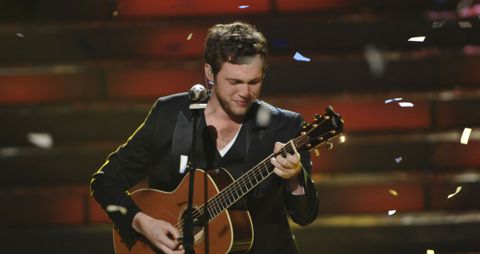 When the first live results and elimination show for American Idol 2013 arrives on March 14th – check the American Idol schedule – fans of last year's winner, Phillip Phillips, are in for a special treat.
Returning to the stage he's called "Home" Phillips will perform his new single "Gone, Gone, Gone" – watch the video here. Phillip won't be alone that night though when it comes to special guest performers.
Bon Jovi is set to perform their new single "Because We Can" which will be part of their new album hitting shelves just two days before their scheduled appearance on American Idol 2013.
All of these performers should help make the first elimination show of Season 12 a pretty exciting event. Well, I guess everyone but that first Idol cut will be excited.
Stay tuned this week to find out who will make it to the Top 20 and be facing potential elimination that night on American idol 2013.
Source: Hollywood Reporter