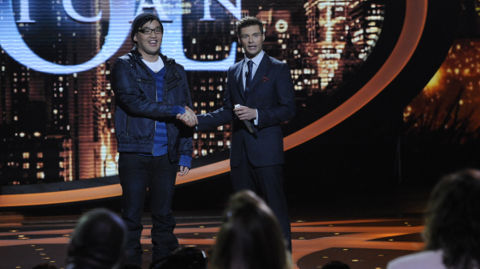 Heejun Han may have been eliminated last night on American Idol 2012, but fear not Haniacs (or Han-Fans, if you will), there's plenty more Heejun to enjoy.
Lots of funny bits came out of Heejun's post-elimination media blitz including where we might expect to see him next. Han jokingly informed THR's Shirley Halperin that he was ready to jump networks with plans for The Voice:
[Spoiler alert!] Ha! @AmericanIdol's Heejun Han was asked what he'll do next and said, "I guess I'll watch The Voice." Lol! CC: @NBCTheVoice

— shirleyhalperin (@shirleyhalperin) March 30, 2012
FOX and the American Idol family isn't ready to let go of him just yet though. He's still got the American Idol Tour coming up this summer! When asked by Yahoo's Lyndsey Parker which side of Heejun we'd see on tour he responded, "on tour, something crazy is going to happen." He goes on to explain it will involve a dinosaur and fireworks so we need to "come watch the freakin' tour!"
Watch the full video interview from after last night's American Idol below and find out what Heejun was planning to sing if he made it through to 80's music next week along with his best/worst moments of the season.
Are you sad to see Heejun Han go or was this the right time for him?