Although we don't think she managed to top Caleb Johnson, American Idol season 13 finalist Jena Irene Ascuitto scored with a strong showing on the Top 9 performances show this week.
Singing "Bring Me To Life" by Evanescence with the band, Jena Irene showed off a new look and a darker attitude on stage this week. We think it worked for her, especially combined with some of her most powerful vocals to date.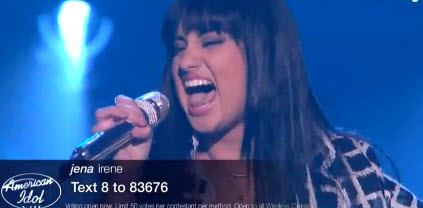 While there were a few off moments when Jena's voice sounded a little strained, we think it was certainly a performance worthy of keeping her out of the bottom three this week.
The American Idol judges were certainly impressed. Even notoriously tough judge Harry Connick Jr. loved it and said it was "really, really song." J-Lo was so excited, she actually dropped the f-bomb during her critique when the guys were teasing her about doing a hair flip!
Vote for Jena:
Text 8 to 83676
Call 1-855-4-IDOL-08 (1-855-443-6508)
>> Click to read our full recap and watch all the Top 9 performances!