Jena Irene Ascuitto received a hero's welcome when she returned to Farmington Hills, MI this past weekend for her Top 3 Hometown Visit. In the American Idol spoilers photos from her trip home, Jena Irene is so thrilled by the huge turnout of fans that she already looks like the next American Idol winner!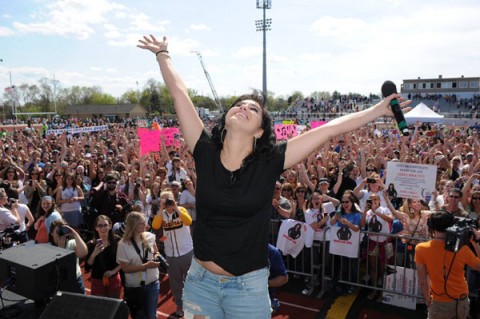 Jena Irene already earned her own "day" back on April 23 in Oakland County, officially declared by County Executive L. Brooks Patterson. That was nothing, however, compared to the massive celebration held for Jena as she arrived back home this weekend to a huge crowd of thousands eagerly awaiting a glimpse of their American Idol star.
During her visit, Jana visited Hercules Coney Island, where she had been a waitress before going on American Idol, to rub shoulders with her former boss and coworkers. She also visited with family and friends, of course, and gave a big concert for her classmates and fans on the football field of North Farmington High School.