This is it, the final American Idol results show for 2014! Who is going home tonight on American Idol season 13 in the last vote of the year? The race between Jena Irene and Caleb Johnson is almost too close to call. That doesn't mean, however, that we aren't going to make one last American Idol predictions post about who will end up as the season 13 winner!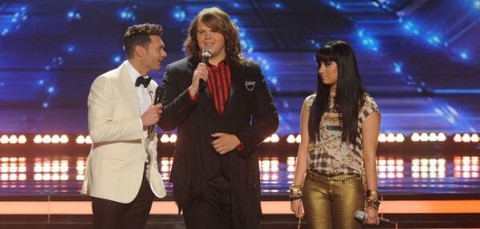 * UPDATE: Find out who won American Idol 2014 in our recap of the final results show!
If you go solely by the most recent American Idol betting odds, the person who is likely going home as the loser tonight would be rocker Caleb Johnson. Jena Irene Ascuitto has been leading in the American Idol Las Vegas betting odds for the past four weeks. However, we know from past seasons that being first in the odds doesn't always mean you are the guaranteed American Idol winner.
We often look to our readers to judge the temperature of who is likely to go home next on American Idol and they are very often correct. But our last two fan polls gave us rather conflicting results. When we asked who you wanted to win last week, the clear answer with 52 percent of the vote was Caleb Johnson. However, in our poll on who had the best performances on American Idol last night, and Jena Irene is currently in the lead with 51 percent of the vote.
Jena and Caleb have pretty much switched back and forth at the top of many of our fan polls throughout that season. That seems to be true on just about every fan site we visit as well. So what other method can we use to determine who will win American Idol tonight? Well, we thought we'd take a look at social media and see if that would provide us with the answer.
On Twitter, Jena has over 53k followers compared to just 38.5k for Caleb. But on Facebook, Caleb's page has over 70.5k likes, while Jena Irene's only has 58.2k likes. Well, that pretty much gives us no good clue at all on who will win if you average those two statistics out!
So who will win American Idol tonight and take home the season 13 crown? Weighing all the fan polls, the betting odds, the social media stats… we're going to have to give a tiny edge at this point to… Jena Irene Ascuitto!
However, we don't think it would be a shock at all if we turned out to be wrong and Caleb Johnson nabbed the win. Especially since 10 of the past 12 winners of American Idol have been from the South. Caleb is from Asheville, NC, while Jena Irene is from Farmington Hills, MI.