American Idol 2016 contestant Jenn Blosil once again proved Wednesday night why she is one of our favorites among this year's crop of young singers. Her quirky personality and unique voice make her stand out, but it is her emotive performance like her rendition of "Sorry" by Justin Bieber on Wednesday night that make her a true force to be reckoned with.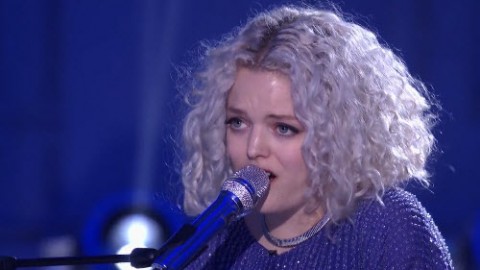 Where Manny Torres may have been criticized for his Top 24 performance not connecting with the audience enough, Jenn Blosil grabs the viewers with her piercing blue eyes and just doesn't let go. However, American Idol judge Harry Connick Jr. was quick to pounce on Jenn for being "extremely out of tune." The audience, however, didn't seem to care about any pitch issues at all, booing him very loudly for his criticism!
No need to say sorry for that performance! @jennblosil just SLAYED that @justinbieber song. #IdolTop24https://t.co/G92006KzqK

— American Idol (@AmericanIdol) February 18, 2016
Check out the Jenn Blosil  profile page for more information on this dedicated young singer. Can't wait to find out if she made it through to the next round of the competition? Take a sneak peek ahead in the season on our American Idol spoilers page!